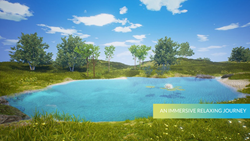 Cupertino, CA (PRWEB) September 01, 2016
Ideative S.r.l. are pleased to announce the launch of "Relaxity VR", an innovative wellbeing app for iPhone with a holistic combination of psychology, technology and design.
Offering users a soothing and relaxing journey into nature, Relaxity VR provides a fully immersive experience to reduce stress and rest the mind. A realistic virtual itinerary, guided by a sweet voice and a blissful music, provides everyone with a virtual universe of serenity.
The experience includes a 7 minutes' virtual walk through a unique and peaceful environment, including a harmonious 3D natural landscape. For realism the environment has been created with a powerful VR framework, mixing top class textures, live recorded
sound effects, professional voice guide speakers and a thematic background melody.
The relaxing benefits of Relaxity VR can be used in almost infinite ways, including:
> To start the day in a calm manner
> A calming break from the daily work routine
> To gain concentration prior to a new challenge
Conceived by a wellbeing specialist team, Relaxity VR merges the benefits of positive psychology, cutting-edge technology and communication design, with a clear idea: "New era devices are often considered technostress and a cause of addiction" said Luca Bernardelli, Ideative CEO, "so the vision of Relaxity VR is to invert this paradigm and support personal wellbeing through technology".
Relaxity VR is available now in the App Store "Health and Fitness" category for $ 2.99 (or equivalent in other currencies) and can be downloaded at: https://itunes.apple.com/app/id1099169756
Relaxity VR is usable with any Virtual Reality mobile-based headset – thanks to a special VR plugin encapsulated – and even without VR viewers – thanks to 360 video mode –. In order to get the maximum benefit, this experience should be lived for few days
consecutively.
For more information about this episode and the next in progress, please visit: http://www.relaxity-vr.com
About Ideative SRL
Relaxity VR is a brand created with love and owned with pride by the Italian company Ideative S.r.l.
Ideative design and build innovative entertainment experiences, implementing a combination of technology, communication and psychology to provide users and customers with cutting-edge products.
Learn more: http://www.ideative.it