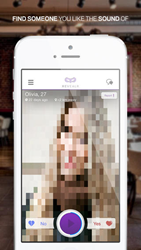 Longfellow said that the voice is the organ of the soul, and we believe that the voice is more than half of beauty!
Cupertino, CA (PRWEB) April 12, 2014
When 19th century poet and author Henry Wadsworth Longfellow said that "the human voice is the organ of the soul", he couldn't have dreamed that more than 150 years later his words would be the perfect way to introduce the world to Revealr, a patent-pending and truly unique, exciting and fun new app from Revealr Software Limited that lets people around the world meet using their voice.
Available at no-cost and with no advertising of any kind, Revealr lets users:

simply sign-in via their Facebook account
upload a photo, which is then automatically pixelated by the app to protect their identity
record a custom 20-second audio message -- they can introduce themselves, tell a joke, list a few hobbies, or anything else that captures their personality
browse through various profiles and "listen" for other users who capture their interest
Once users find a potential match, they simply tap "Yes" or swipe right on their iPhone, iPad or iPod touch. If a match is made, the profile pictures are unpixelated, and both users are free to chat and start a great new friendship or, perhaps, experience something even more special and intimate.
Plus, users concerned about their privacy can be assured that they remain completely anonymous until a match is made. They also never have to worry about having unsolicited messages posted to their or their friends' walls.
"Longfellow said that the voice is the organ of the soul, and we believe that the voice is more than half of beauty!" commented Guy Harrington of Revealr Software Limited. "And the best way to experience this is through our new app.It's the perfect way for people to be liked for who they really are, instead of being pre-judged by how they look. It's fun, safe, exciting and addictive – and it's the only app like it in the entire world!" Revealr is available now in English and French from the App Store at https://itunes.apple.com/app/revealr/id816199884.
Additional details are available at http://www.revealrapp.com.
For all other more information or media inquiries, contact Mark Johnson on behalf of Revealr Software Limited at +1 408 757 0156 or press(at)appshout(dot)com.
About Revealr Software Limited
Revealr Software Limited is a London based company created by founders Paul Laight and Guy Harrington, who were frustrated with the superficiality of current dating apps available in today's marketplace. Much in the same way that blind dates and voicemail dating changed the way people met in the 1990s, the company intends to do the same with Revealr, which allows each person's unique personality shine through from within.
Learn more: http://www.revealrapp.com