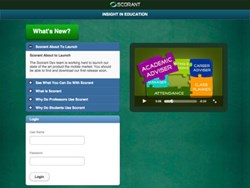 Cupertino, CA (PRWEB) February 04, 2014
Scorant, a leading provider of course management and analytics software for education, announced today the availability of its solutions for K-12 teachers and students.
Scorant allows teachers to visually take attendance, conduct exams, create assignments, class discussions, and instantly know your "class mood." Students can easily understand their current and past performance, simulate major changes, class mix, and participate in all class activities. Scorant offers its solutions through traditional browsers as well as mobile apps available both for iOS and Android based devices.
Scorant uses very sophisticated analytics combined with an easy to use application and mobile client to offer teachers and students feature rich capabilities, ranging from course creation, syllabi management, and attendance tracking, dynamic C.V., and much more.
Odeh A. Muhawesh, Scorant's C.E.O., said that his company's offerings would transform how teachers and students manage their courses and academic careers. Academic Adviser®, a key component of Scorant's applications, offers students on time and on demand analytics and insight into their progress in each course and collective course work. It also recommends which mix of courses a student should enroll in, the best time of day for each course, and which teachers to enroll with based upon both the student's and teacher's learning and teaching styles, along with a host of other innovative features.
Teachers' management of their courses is greatly simplified through Visual Attendance®, homework, exam, grading, and Dynamic Syllabi®.
Scorant is available now for iPhone and iPad in the iTunes App Store at: https://itunes.apple.com/us/app/scorant/id542133672?mt=8&ign-mpt=uo=4. A version for Android devices is also available via Google Play at: https://play.google.com/store/apps/details?id=com.app.scorant.
About Scorant, LLC.:
Scorant, LLC. is a privately held company based in Minneapolis, MN. USA. Founded by a group of seasoned academicians and business leaders, Scorant specializes in the creation of easy to use yet powerful software products for the education market. Relying on their vast expertise in analytics, Scorant's founding team promises to deliver software that will revolutionize how education is delivered and viewed now and well into the future.
Learn more at http://www.scorant.com.