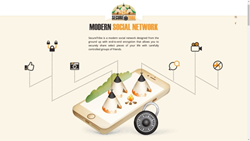 Cupertino, CA (PRWEB) July 13, 2017
Families, friends, bands, artists, co-workers, teams, fraternities, and all other groups of any size that want an innovative, easy-to-use and extremely secure way to share content, can now head to the App Store and download the unique new app SecureTribe.
Developed by Just Two Dudes, SecureTribe is an advanced social network that lets users create two kinds of content sharing groups, which the app refers to as "tribes": private tribes and public tribes.
Private tribes secure all content — such as photos and HD videos (up to 1280px) — with extremely strong encryption, which can only be accessed by authorized users who have a unique decryption key on their device. Furthermore, there no risk of content from one private tribe leaking to another. In fact, private tribes aren't even listed anywhere in the app or online, and so their very existence is undiscoverable.
Public tribes allow users to share content with anyone within the global SecureTribe community. For example, nature lovers can openly share pictures and videos of their favorite scenes, artists can showcase their work to a worldwide audience, sports teams can display videos of great performances, and so on.
Users can easily create both public and private tribes, in order to separate their personal and professional lives. They can also:

Invite friends to view their tribe(s) by sending a secure graphic, which can also be printed and scanned (e.g. a band can post the secure graphic on the door of a concert, and allow VIP fans to scan it and unlock exclusive content like backstage videos, etc.).
Access a "What's New?" timeline when they log in to view all recent posts in chronological order.
Create limited-time subscriptions to their content.
Control how many people can subscribe during a promotional period.
Stay connected with tribe members through built-in chat.
Like and rate content.
"Unlike other secure content apps that are cumbersome and complicated for users who aren't information security professionals, SecureTribe is remarkably simple, easy and fast, and is designed with a beautiful interface to share life's memories and moments with friends, co-workers, family, associates, and anyone else in their tribe," commented Steven Carlson of Just Two Dudes. "Essentially, SecureTribe is a new take on how a social media photo and video sharing service should truly work!" 
SecureTribe is available now from the App Store at https://itunes.apple.com/app/securetribe/id1072860410
For additional app information including FAQs, visit https://www.securetribeapp.com.
A review of SecureTribe has already been featured on Gizmo Edition, read more at:
http://www.gizmoeditor.com/2017/06/new-app-locks-shared-photos.html
For all other information or media inquiries, contact Mark Johnson on behalf of Just Two Dudes Ltd. at +1 408 757 0156 or press (at)appshout(dot)com.
About Just Two Dudes
Based in Virginia, USA, Just Two Dudes was founded by Steven Carlson.
Steven is a talented and experienced software expert, with a varied career including serving in the United States Navy as a Corpsman (medic) training to be attached to a Search and Rescue SH-60 Helicopter, during Operation Enduring Freedom.
Steven started his first computer business at the age of 12 and went on to write a Windows security program used by Arizona State University in their computer labs at the age of 14. His software has been reviewed in numerous computer magazines, all with favorable endorsements. He is accomplished in Perl scripting, Objective-C programming, network security, Cisco firewall configuration, server load balancing techniques, Linux server administration, among others.
View the full Press Release in the appshout! Newsroom at: http://appshout.d.pr/7BTS0