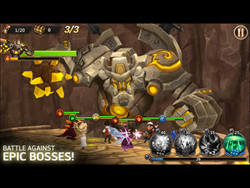 With Shards of Magic, we set out to create a truly unique experience for mobile.
Cupertino, CA (PRWEB) November 16, 2015
From the USA branch of R2Games, in collaboration with S Plus, comes Shards of Magic a brand new mobile RPG title for iOS and Android devices. Featuring a strong core set of classic RPG mechanics, Shards of Magic sets itself apart in several ways. The game touts a campaign spanning 36 chapters, and over 350 stages, with voice acting for characters and cutscenes, something rarely seen in mobile titles. As the engaging campaign unfolds, players will find themselves recruiting various characters from a roster of over 280 heroes, to form a unique party. The key to victory will be in how players compose their team of heroes, positioning them optimally according to class and elemental alignment to create perfect combat synergy. Shards of Magic also features a slew of intricate gameplay mechanics and features such as co-operative boss raids, PvP combat, and endless dungeon challenges.
"With Shards of Magic, we set out to create a truly unique experience for mobile. Fun and innovation is the bottom line for us here at S Plus; We would always choose to develop something with passion, instead of churning out re-skinned clones of established titles. As such, we require a publisher willing to let us see our vision through, and with the resources to bring it to the global market. That's why we jumped at the opportunity to work with R2Games to bring our project to life." - Kevin Jiao, CEO & Founder of S Plus
"Shards of Magic caught our eye early in its development cycle. Being a company with strong roots in fantasy RPG titles, we felt it would make a perfect addition to the growing R2 Games mobile library." - David P. Chiu, Vice President of R2Games USA.
See Shards of Magic's stunning 3D graphics in action for yourself on YouTube:
https://youtu.be/NRyJxelCfZc
Download and discover Shards of Magic:
iOS - http://r2gam.es/ShardsOfMagic_iOS
Android - http://r2gam.es/ShardsOfMagic_Android
About R2Games
R2Games is a global online game publisher that specializes in delivering microtransactionbased, free-to-play mobile and browser games to markets around the world. R2Games' growing portfolio includes mobile and browser hits such as Clicker Heroes, EZ PZ RPG, Wartune, and League of Angels. With its international team R2Games manages marketing and PR, locates distribution channels, and carries out day-to-day operations including customer support, community management, and event design/implementation.
Learn more http://www.r2games.com
About S Plus
S Plus is a well established developer focused in online browser and mobile game creation. With over 300 motivated employees passionate about gaming in all forms, S Plus is determined to bring its audience high quality entertainment, worldwide.
Learn more: http://www.splusgame.com