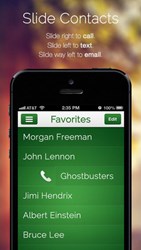 Contacts are something personal, and we wanted to make the entire contacts experience, from choosing and reordering your favorites to contacting them any way you like, as easy and enjoyable as possible
Cupertino, CA (PRWEB) August 28, 2013
"Slide Contacts is designed to combine the key features of the default Phone, Messages and Contacts apps into one super simple interface," explains Pure Signal's CEO, Kyle Richey. "It's a faster, more intuitive way to call, text and email, as well as manage your address book. We've also been really happy to hear such positive feedback from early adopters during the beta. It's been great to see that about 80% of the beta users have actually replaced the stock Phone & Messages in their docks with Slide Contacts!"
Other "speed dial" apps offer clunky interfaces that force a user to assign a single action — just call, text or email — when tapping on a contact. Slide Contacts instead uses the built-in sliding gestures familiar to all iPhone users to bring simplicity and fun back to the dull contacts interface, combining all the ways to contact someone in one place. Sliding right on a favorite places a call, sliding left sends a text message, and sliding far left begins a new email.
The app also features 9 themes to customize the app's look and feel for individual users: Green, Orange, Red, Purple, Pink, Gunmetal, Ocean, Night, and Sky.
"Contacts are something personal, and we wanted to make the entire contacts experience, from choosing and reordering your favorites to contacting them any way you like, as easy and enjoyable as possible," says Richey, whose team has spent countless hours perfecting the app's gorgeous interface. "People love choosing a theme because it personalizes the most essential part of the iPhone experience — connecting with people."
Slide Contacts is designed to fit right in with the iPhone's existing apps. It syncs securely with a user's address book, even when adding new contacts or editing existing ones, and uses the Messages and Mail apps to send texts and emails, so there is nothing new to learn.
Users can also send group texts and emails to multiple contacts from the same interface.
Features requested by early adopters have already found their way into the app. The address book can be sorted by first or last name, support has been added for texting with WhatsApp, and addresses now open in either Apple or Google Maps. The extended beta gave the developers time and feedback to fix bugs before this wider release.
Slide Contacts 1.5 is available on the App Store for just $0.99 USD (or equivalent amount in other currencies) and available worldwide exclusively through the App Store in the Social Networking category.
Language Support: English
Device Requirements: iPhone 3GS or iPod touch (3rd generation) or newer, and iPad
Requires iOS 6.0 or later
23.3 MB
Product URL: http://www.slidecontacts.com/
Direct Download Link: https://itunes.apple.com/us/app/slide-contacts-speed-dial/id660241931
Press Kit: http://www.slidecontacts.com/presskit.zip
Twitter: https://twitter.com/PureSignalApps
About Pure Signal LLC
Located in Dayton, Ohio, Pure Signal LLC was founded in 2011 by Kyle Richey. Pure Signal creates apps for the iPhone that are flexible and easy to use, including Slide Contacts and Strides: Goals & Habits Tracker.