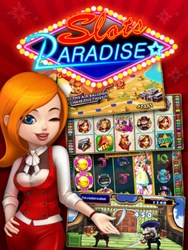 Slots Paradise truly issomething that users must personally experience to fully appreciate.
Cupertino, CA (PRWEB) November 19, 2013
Users who love slot games, but are tired of the same old, ordinary apps can now download Slots Paradise, and enjoy the newest and hottest slot game in the App Store, Google Play and Facebook.
Developed by International Games System Co., Ltd., Slots Paradise features amazing themes -- such as the beautiful deep sea, the mysteries of Ancient Egypt, the magic of the Dragon's Keep, and many more -- that transport users to another time and place, and add a whole new level excitement to the overall experience. Plus, each theme has its own specially-designed bonus game, which adds even more fun and surprise with each play.
In addition, users can take advantage of Slots Paradise's complete social features, which allow them to play against friends via their uniquely-generated "Friend Code", or simply by using their Facebook account. What's more, users can share, gift and invite friends, and the more friends they connect with, the more bonus coins they'll collect.
Other Slots Paradise special features include:

A comprehensive leaderboard that lets users see how they stack up against friends, or against players around the world
Stunning graphics and high quality music and sound effects that add to the overall fun and excitement
Tournaments that let users bet small – and win big
A simple, clean and intuitive interface that anyone can master within seconds
Complimentary updates with new games being offered all the time
"Slots Paradise is unlike any other app in history!" commented Hsiao-hui Chen of International Games System Co., Ltd. "With so many themes to choose from, social features, bonus games, tournaments and rankings, and so much more, it truly is something that users must personally experience to fully appreciate. Plus, it's available at no-cost, and updates and new games are always complimentary."
Slots Paradise, the new slots game that features amazing themes, complete social sharing, a comprehensive leaderboard and more, is available in the App Store at https://itunes.apple.com/app/slots-paradise/id589407762 and on Google Play at https://play.google.com/store/apps/details?id=com.igs.slotsparadise&hl=en.
For all other information or media inquires contact Mark Johnson on behalf of International Games System Co., Ltd at +1 408 757 0156 or press(at)appshout(dot)com.
About International Games System Co., Ltd. !
IGS aims to be a flagship game developer within Great China and across the world, and is driven by "innovative technology & creative recreation" as its enterprise spirit.
Learn more at http://www.igs.com.tw/www/index.html.
Find us on Facebook: https://www.facebook.com/SlotsParadise.