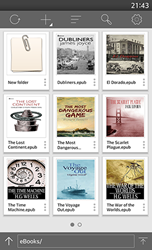 Quite simply, Smartreader is a re-invention of the mobile reading experience, and puts the control squarely back where it has always truly belonged: with users!
Cupertino, CA (PRWEB) July 03, 2014
Android users who want to re-invent how they view, edit and enhance eBooks, documents and web pages can now head to Google Play and download Smartreader: the world's first mobile reading platform with a full-fledged graphic file manager.
Developed by Appside and available at no-cost, Smartreader gives Android users unprecedented control by empowering them to quickly and easily:

View eBooks (EPUB), documents (PDF & TXT), and web pages (HTML)
Add their own content by sourcing compatible files from anywhere on the web
Access the app's built-in comprehensive file manager to organize eBooks, documents and saved web content – just like they would on their desktop
Enhance their content with premium annotation features for EPUB and PDF files, including bookmarks, notes and highlights
Download blogs, news articles and other web pages directly from their mobile browser (Chrome, Firefox, Opera, Dolphin, etc.), so they can conveniently be viewed offline at a later time
Enjoy direct access to Wikipedia's online database without having to exit the app's reading view
Plug in several offline (Stardict) dictionaries -- including both monolingual and multilingual versions -- and view content or translations side-by-side in the app's reading view
Access comprehensive history tracking, and customize user interactions to record and export for editing via word processor
Share recorded user interactions with other apps like Gmail, Dropbox, mobile word processors etc.
In addition, Smartreader features an elegantly streamlined user interface, intuitive design and generous reading space, all of which cut down on the clutter found in most mobile readers. The end result is that users don't have to worry about navigating through a confusing maze of menus and options, and can instead focus on getting what they want with a minimum number of taps. What's more, the lightweight footprint of approximately 10MBs is a refreshing departure from bloated memory-hogging apps.
"We meticulously designed Smartreader so that it doesn't just offer superior features across-theboard when compared to other mobile reader apps, but that it does so in a way that's remarkably easy-to-use, and delivers a whole new level of user choice," commented Appside. "Quite simply, Smartreader is a re-invention of the mobile reading experience, and puts the control squarely back where it has always truly belonged: with users!"
Adding: "We're also constantly raising the bar and developing enhancements. Features currently in development include book catalog integration, extensive library upgrades, localization, and more."
Smartreader is available now at no-cost from Google Play at https://play.google.com/store/apps/details?id=com.appside.app.smartreader.free
More details are available from the company website at: http://www.smartreader.mobi.
For more information or media inquiries, contact Mark Johnson on behalf of Appside at +1 408 757 0156 or press (at)appshout(dot)com.
About Appside
Appside is an application development company that brings innovative technology solutions to mobile devices. The company believes that to be truly innovative, developers should be willing to depart from conventional practices and go back to the drawing board. After a year of intensive effort, the company released Smartreader: a revolutionary reading app that is poised to reinvent the Android reader landscape. The company aims to take its new reader model to other mobile platforms, and is already working on a new project that is set to disrupt another existing app category.