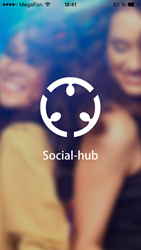 Essentially with Social-Hub, users can fit their entire social life in one completely unique app
Cupertino, CA (PRWEB) October 10, 2014
iPhone, iPad and iPod touch users who are fed up with juggling multiple social network accounts and crave a solution that lets them manage and control their social life in one convenient place, can now download the remarkable new musthave app Social-Hub from developer Islom Kamalkhodjaev.
Crafted with a clean, elegant and simple iOS 7-inspired interface, Social-Hub is an integrated all-in-one app that lets users easily review their friends' feeds and post new content via Twitter, Facebook and Instagram. They can also save time and effort by cross-posting to multiple accounts, and there's a fantastic one-touch
shortcut to view messages – which is perfect for getting the latest updates and news in the shortest possible time.
Plus, users can access Social-Hub's exceptional dropdown menus to manage each of their Social Network accounts. For example, users can view and edit their profile, browse favorites, see what's trending, and more – and all without exiting the app.
Other notable Social-Hub features that users will love include the ability to:

Apply great visual effects and edit photos prior to publishing them on Facebook, Twitter or Instagram.
Add their friends' RSS feeds so they're constantly in the loop.
Conveniently "like" and view Instagram photos.
Get more done in less time, which saves their device's battery life.
Password protect the app to prevent unauthorized access.
And to top it all off, Social-Hub has been designed to mimic the native look and feel of each social network app, so that users enjoy smooth, seamless and efficient interaction.
"Essentially with Social-Hub, users can fit their entire social life in one completely unique app," commented developer Islom Kamalkhodjaev. "And because we've integrated each native app's look and feel, users will enjoy the interaction that they're used to, except they'll be able to do more in less time – and have more fun along the way. Plus, we're constantly improving the app and are already planning on the next wave of great new features!"
Social-Hub, the new must-have solution that manages and control multiple social networks in a convenient, integrated all-in-one app, is available in the App Store at https://itunes.apple.com/app/social-hub/id625246354.
For more information or media inquiries, contact Mark Johnson on behalf of Islom Kamalkhodjaev at +1 408 757 0156 or press(at)appshout(dot)com.
About Islom Kamalkhodjaev
Based on Moscow, Russia, Islom Kamalkhodjaev is an app developer and entrepreneur who is passionate about apps, and employs professional experts to help bring his creative ideas to life.