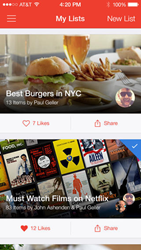 Essentially, Socialist turns traditional, static and frankly boring lists designed for the last century, into sophisticated, dynamic and multi-faceted personal statements that fit our digitally-immersed mobile world
Cupertino, CA (PRWEB) July 23, 2014
iPhone users craving an interactive, predictive and social way to create, collaborate and share lists all in one convenient place – so they can organize the things they love – can now head to the App Store, and download Socialist: the iOS world's smartest list platform.
Created by the BKRY, offered at no-cost and crafted exclusively for iOS 7, Socialist lets users build, add, update and reorder lists of their favorite things, while they add both cover and item-specific photos and easily keep track of items via the app's simple gesture-based design.
And while its list-building functionality is impressive, what truly makes Socialist unique among all list building apps is that it seamlessly integrates with several third party APIs, such as Yelp, Foursquare, IMBD, Spotify, iTunes, Rdio, Grooveshark, Amazon, Hulu, Netflix, Google Maps, Apple Maps and more. As a result, list items are automatically improved and populated with rich, interesting data such as reviews, trailers, descriptions, location details and more. Plus, users can perform various actions associated with their list -- such as purchase movie tickets, download apps, listen to music and much more -- all without having to exit the app.
Other special features that make Socialist the smartest list platform the iOS world has ever seen include the ability for users to:

Broaden their horizons by checking out the app's Popular List, and explore featured content from trusted sources like Vice, Complex, Milk Studios and the New York Times.
Scan their personalized activity feed to spot cool, useful or just plain weird and wonderful lists by their friends, and they browse the public feed to find popular people, places and things that they can instantly add to their own lists.
Evolve their lists by bringing aboard as many friends and fans as they wish by importing them via address book, Facebook and Twitter. Sharing lists via Facebook, Twitter, SMS/iMessage and email is also quick and easy.
Organize and update their lists via integrated 2-way syncing support to/from Foursquare (syncing support for additional sources are in the works for future app updates).
"Essentially, Socialist turns traditional, static and frankly boring lists designed for the last century, into sophisticated, dynamic and multi-faceted personal statements that fit our digitally-immersed mobile world," commented Paul Geller of the BKRY. "And with integration with several third party APIs, a dreamy design created exclusively for iOS 7, a ridiculously cool domain address, and the fact that the app is available at no-cost, what's not to love?"
Socialist is available now from the App Store at https://itunes.apple.com/app/socialist/id829280036. In just a few days, the app has already received rave 5-star reviews from impressed list-makers around the world.
For more app information, including screenshots, visit http://sociali.st/.
For all other information including media inquiries, contact Mark Johnson on behalf of the BKRY at +1 408 757 0156 or press (at)appshout(dot)com.
About the BKRY
The BKRY was founded by startup veterans John Ashenden and Paul Geller, whose goal is to dream-up, develop and deliver-to-market web and mobile applications that push today's technologies beyond their presupposed limits -- solving problems and creating value through intuitive design and original experiences.
Learn more at http://www.thebkry.com/.