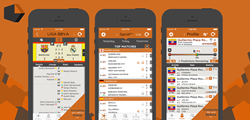 Since launching SpoW: Soccer, the positive feedback we've received from both users and App-related media has been incredible
Cupertino, CA (PRWEB) November 28, 2013
Soccer fans of all ages around the world who can't get enough of Spow LLC's remarkable SpoW: Soccer, can now celebrate like their favorite squad has just scored a "Golden Goal" and download the new and improved version 2.2.
SpoW: Soccer, which is a Top 10 ranked sports app in over 30 countries, and heralded as a "must-have for any soccer fan" by TheiPhoneAppReview.com, gives folks who love the beautiful game everything they need to stay completely up-to-date, including:

Live scores for every major soccer league in the world
Expected line-ups
Instant updates for goals, red/yellow cards, substitutions, missed penalties, assists, and much more
Daily hand-picked top matches
Push notifications for goals and red cards
Complete standings and team profiles
Statistics for all of the top leagues, including shots, fouls, corner kicks, offsides, cards and possession time
Interactive news feeds of top trending matches
An interaction module to connect with friends, and share info and insights on any soccer match
Plus, users who want to put their soccer knowledge and intuition to the test can predict match scores and win points based on accuracy. The more points they accumulate, the faster they'll move up divisions, win cups, and compete against the world's top "SpoWsers". Users can also examine their personal prediction stats (comprised of: total predictions, average points, % of perfect predictions, and how many times they've predicted the winner), and explore news feeds to
check out their friends' predictions.
And now in SpoW: Soccer version 2.2, users can also enjoy:
A completely re-designed interface inspired by iOS7
Twitter feed integration that provides Home and Away news for over 450 teams
On-field lineup information for even greater visibility and convenience
"Since launching SpoW: Soccer, the positive feedback we've received from both users and App-related media has been incredible," commented Guillermo Plaza of Spow LLC. "We love soccer, and this passion, dedication and attention-to-detail is reflected in every aspect of the app. It doesn't matter whether someone is a casual soccer fan, or a hard core supporter who lives and dies with their beloved team, SpoW: Soccer has something for everyone!"
The new and improved SpoW: Soccer version 2.2 is available now from the App
Store at https://itunes.apple.com/app/id610272511.
For more information or media inquiries, contact Mark Johnson on behalf of Spow LLC at +1 408 757 0156 or press(at)appshout(dot)com.
About Spow LLC
SpoW's goal is to expand the world of sports by providing users a new platform to follow, play, and interact with others around their favorite sports. SpoW: Soccer is the firm's first edition, with many more to follow soon.
Learn more at http://www.spowapp.com/