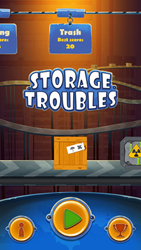 Storage Troubles is a great test of reactions, timing and concentration. And best of all, there's no cost to download, and anyone can start enjoying it right away!
Cupertino, CA (PRWEB) October 28, 2014
iPhone users in search of delightfully fun new way to put their reactions, timing and concentration to the test, can now head over to the App Store and download the new no-cost arcade game Storage Troubles from the creative minds at Rock'n'Glory Studio.
Unlike many arcade games that have a steep learning curve and take hours to figure out, Storage Troubles is a refreshingly simple "pick-up-and-play" app that anyone --including children -- can immediately start enjoying.
Storage Troubles' gameplay is truly creative. Users find themselves in a warehouse, and must swipe boxes left or right into a storage area. And while this may sound easier said than done, as noted above users must rely on deft reactions, timing and concentration to ensure that the storage area is open before they swipe, and that the right box is added to the correct storage.
What's more, to add variety and fun, Storage Troubles features three game modes –
each with different tasks:

In Mode 1, each storage area has its own timer, and users must swipe in a precise amount of boxes before it closes.
In Mode 2, users must keep an eye on two monitors showing which boxes belong to a specific storage area, and must move them accordingly before the stack of boxes reaches the top.
In Mode 3, users are treated to a combination of Mode 1 and Mode 2, with an added twist: when the timer runs out, some boxes turn to garbage and must be swiped into a trash bin.
And to top it all off, users who achieve the required score in any level of any game mode get to move on to a higher level – and face an increasing degree of difficulty.
Other Storage Troubles special features include:

Several unique and exciting boxes to unlock
Great graphics and sound effects
A global rating to see how users compare to other players
A high score indicator to track progress
"Arcade games are supposed to be fun, interesting and challenging," commented a spokesperson from Rock'n'Glory Studio. "Unfortunately, so many arcade apps are the exact opposite! They're boring, repetitive, complicated, and users end up deleting them within hours – sometimes minutes. That's why we created Storage Troubles. It never gets boring, it's always fun, and it's a great test of reactions, timing and concentration. And best of all, there's no cost to download, and anyone can start enjoying it right away!"
Storage Troubles is available now for iPhone from the App Store at LINK. An iPad and Android version are in development and will be released soon.
For all other information or media inquiries, contact Mark Johnson on behalf of
Rock'n'Glory Studio at +1 408 757 0156 or press (at)appshout(dot)com.
About Rock'n'Glory Studio
Based in Moscow, Rock'n'Glory Studio was created by a dynamic group of university friends who didn't want to become part of faceless corporate culture, and decided to forge their own path. The company specializes in developing iOS and Android mobile
apps, and prides itself on bringing ideas to life, which includes complete end-to-end app development, creation and distribution through the App Store and Google Play. Since being established in 2012, Rock'n'Glory Studio has remained true to its guiding principle,which is to make unique, enjoyable and fun games.
Learn more at http://www.rocknglory.ru