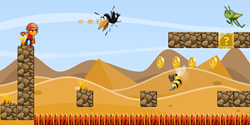 People of all ages can start having fun right away, and the more they play, the better they'll get!
Cupertino, CA (PRWEB) March 31, 2016
As millions mobile gamers around the world know – but probably wish they didn't – about 95 percent of games are boring, uncreative and unchallenging; which is why they typically get deleted within an hour after being downloaded. However, there are those exceptional 5 percent of games that truly stand out for all of the right reasons: and the latest entry on this coveted shortlist is Super World of Marcos.
Developed by MobiEos Software Private Limited and available at no cost, Super World of Marcos is a fun, ultra addictive experience that uniquely blends tactics, strategy reflexes and timing. Gamers must think ahead – and fast – in order to race and jump through a variety of scenes and landscapes, including: jungles, dungeons, deserts, and more.
Along the way, gamers must capture coins, unlock surprises and earn points, while they deftly avoid enemies (e.g. ravens, grasshoppers, scorpions, etc.), and avoid other hazards (fiery pitfalls, razor-sharp wooden stakes, etc.). If they're smart, quick and maybe a little bit lucky as well, gamers conquer the current level and head to another, slightly more challenging encounter.
Other Super Marcos World special features include:

4 unique worlds, each with its own look, feel, challenges and dangers
8 dynamic boss stages
Over 80 levels with increasing degrees of difficulty
Exceptional high quality graphics and sound
"What makes Super Marcos World so special, is that it's easy to understand, but tough to master," commented Marcin Wojciechowski of MobiEos Software Private Limited. "People of all ages can start having fun right away, and the more they play, the better they'll get!"
Mr. Wojciechowski isn't the only one excited about Super Marcos World. Since its release, the game has racked up more than 100 5-star reviews on Google Play – including many from people who appreciate how it reminds them of the fun they had during their "old school" Super Mario playing days.
Super World of Marcos is available now at no cost from Google Play at https://play.google.com/store/apps/details?id=com.supermarcos.world&hl=en.
For more information or media inquiries, contact Mark Johnson on behalf of MobiEos Software Private Limited at +1 408 757 0156 or press(at)appshout(dot)com.
About MobiEos Software Private Limited
Founded in 2011 Mobieos Software Private Limited is run by Vinay Kumar Singh and Tarun Maheshwari acting as Strategic Partnership and Technical Head respectively.
We specialise in app/game development on iOS and Android platform and have an expert team of 10+ employees which includes talented developers, designers and QA.