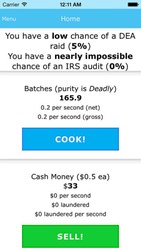 Cupertino, CA (PRWEB) November 23, 2013
People who've wondered what it would be like to build and run their very own meth empire can now download Tapping Bad from developer Joseph Kneebone, and enjoy all of the thrills, chills and action from the convenience of their iPhone or iPad.
Unlike anything that the app world has ever seen, Tapping Bad empowers users with everything they need to build and run a successful meth empire where they:

Cook meth in massive brewing vats just like the pros, and explore 54 upgrades to make their product better, faster, and safer.
Sell meth and generate wads of cash, which must be laundered to avoid being snared by IRS audits.
Surround themselves with a healthy collection of sleazy lawyers to fend off the DEA.
What's more, Tapping Bad lets users establish up to 16 manufacturing tiers where other hard working folks manufacture their meth, while they focus on keeping their empire strong (and the DEA and IRS at bay). Plus, along the way they can unlock 20 different achievements, and show friends and family how truly brilliant they are.
"How many people would love to run their own massive meth empire, but can't because of a lack of chemistry know-how, or due to a healthy aversion of winding up on the DEA or IRS's Most Wanted list?" commented developer Joseph Kneebone. "Well, Tapping Bad is the answer to this prayer. It's fun, challenging, addictive, and there's always a new achievement to unlock and show-off about."
Added Mr. Kneebone: "Some people dream of growing up to be President, or an astronaut, or to play in the big leagues. That's great. More power to them. But for the rest of us who see the world a little differently, there's Tapping Bad."
Tapping Bad, the remarkably creative, fun and challenging new app that lets users build and run their very own meth empire, is available in the App Store at https://itunes.apple.com/app/tapping-bad/id734412791.
For more information or media inquiries, contact Mark Johnson on behalf of Joseph Kneebone at +1 408 757 0156 or press(at)appshout(dot)com.
About Joseph Kneebone
Based in Australie, Joseph Kneebone is an innovative developer with a keen talent for innovative and creative ideas. With a philosophy to "think differently", his debut app Tapping Bad showcases this ethos and aims to be the start of many successful titles to come.