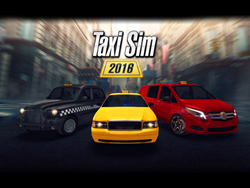 Cupertino, CA (PRWEB) August 22, 2016
When Ovilex Soft launches a new 3D driving simulation app, it is literally a global event -- just ask the company's nearly 450,000 Facebook fans who've come to expect something impressive with each release. Well, their high expectations certainly won't be disappointed when they get behind the virtual wheel of Taxi Sim 2016.
Available at no cost for both iOS and Android, as the title suggests Taxi Sim 2016 transforms users into taxi drivers, who must safely transport their passengers to various destinations.
Users start by choosing from a variety of famous taxis, such as a yellow New York City cab, a black London cab, a premium German Mercedes or BMW, and several more. As they scroll through available options, users can see each vehicle's horsepower, torque, traction and weight.
Next, users select where they want to spin their wheels, such as New York City, London, Frankfurt and Moscow. As expected, the level of detail is exceptional and includes famous landmarks and familiar intersections.
Once the game starts, the renowned Ovilex Soft magic takes over as users are treated to richly detailed interiors that feature tilt and touch steering, dashboard buttons and turn signals, and realistic engine sounds. There's also an incredibly lifelike manual transmission (6 gears plus reverse), and slider pedals for improved control. And while the goal is obviously to have a safe and trouble-free ride, users who veer too close to a curb or another car on the road won't be spared the wrath of the game's realistic damage system.
In terms of gameplay, users have three options: free ride, career and multiplayer. In the free ride mode, users enjoy the experience of transporting passengers and driving through cities. In the career mode, users see if they have what it takes to earn a living. In the multi-player mode, users see how their cabbie skills stack up against others.
Other Taxi Sim 2016 special features that have already helped generate hundreds of 5-star reviews just days after hitting the App Store and Google Play include:

Realistic weather conditions
Realistic day/night driving
Online leaderboards and achievements
The ability for users to request new maps and vehicles via social media
"We have been working hard on Taxi Sim 2016 for several months, and are really excited to finally launch it for our community of fans around the world," commented Marusac Alexandru of Ovilex Soft. "We have even heard from real taxi drivers who have told us they love the app, and wish it was around back when they were starting their careers!"
Taxi Sim 2016, the new ultra-realistic 3D driving simulator app from Ovilex Soft, is available now for iOS devices from the App Store at https://itunes.apple.com/us/app/taxi-sim-2016/id1126769121, and for Android Devices from https://play.google.com/store/apps/details?id=com.ovilex.taxisim2016.
Addition app information, including a video trailer and screenshots, is available at: http://www.ovilex.com/app/taxi-sim-2016.
For all other information or media inquiries, contact Mark Johnson on behalf of Ovilex Soft at +1 408 757 0156 or press (at)appshout(dot)com.
About Ovilex Soft
Ovilex Soft is a new games company that focuses on making the best simulators on Google Play and the App Store. With a variety of planned future projects and continuous attention to quality control, the company will became an important developer within the simulator/racing game market.
Olivex Soft also helps ensure the quality of their products by keeping contact directly with their large audience of games players via the company's site forum at http://www.ovilex.com/forum/