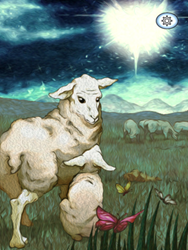 Cupertino, CA (PRWEB) December 04, 2015
Parents, grandparents, uncles, aunts and all other family members who want to introduce children to the Birth of Jesus – in a joyful and delightful new way -- can now download the exquisite new app The Animals Carols by Jules Cashford and Carol Ann de Barros Groberg of J&C Works LLC. The app is available from Google Play, Amazon, and Apple Store.
The Animals Carols is the world's first app in which a story of the Animals present at the Birth of Jesus is told in their own voices -- in gorgeous carols that are fully orchestrated and sung by a choir and are set to amazing poems by Jules Cashford.
Among this enchanting cast of characters are the lamb, the donkey, the clay birds, and many others – many of whom, according to this story, were witnesses to the Birthday of the Baby Jesus in the manger.
As well as the poetry, music and singing of the Animal Carols – with children's voices joining in with a professional choir – this app features stunning illustrations with on-screen interactions, which are enhanced by 3D gyroscopic effects. It adds a whole new visual dimension that invites children to participate in this very special Birthday.
The carols included in the app were originally intended as the first carols for children, who at a young age make many of their earliest explorations through animals who are close to them -- such as pet cats and dogs or teddy bears. The authors hope that the carols in this new app will create a glorious, unequaled experience for children and their families.
The Animal Carols in which, for the first time, the Animals present at the manger tell their own story in their own voice of the day that Jesus was born, is available now for iPhone and iPad from the App Store at: https://itunes.apple.com/app/the-animals-carols/id1057453912
A dedicated Android version is also available via Google Play at: https://play.google.com/store/apps/details?id=com.theanimalscarols.carols and via Amazon at: http://www.amazon.co.uk/J-Works-LLC-Animals-Carols/dp/B017XBDC08/
For additional details including screenshots, visit the website:
http://www.theanimalscarols.com
For all other information or media inquiries, contact Mark Johnson on behalf of J&C Works LLC at +1 408 757 0156 or press (at)appshout(dot)com.
About J&C Works LLC
Based in Albany NY, J&C Works LLC was founded by lifelong friends Carol Ann de Barros & Jules Cashford to bring their app The Animals' Carols to the world.
As best friends at boarding school Carol and Jules sang in the choir together and used to sneak off whenever possible to sing out of range of the teachers. This passion for song and creativity has continue throughout their lives, and inspired The Animals' Carols; a number of Carols created by Jules for her then six-year-old daughter, and enjoyed by both their families for many years.