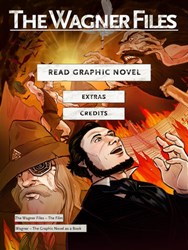 We wanted to tell all of the facets of Wagner's life story in a compelling way.
Cupertino, CA (PRWEB) September 24, 2013
Award-winning documentary company gebrueder beetz filmproduktion has launched the highly-anticipated new international version of its unique interactive graphic novel app The Wagner Files for English, French and Japanese-language users.
Currently available for iPad and iPhone, The Wagner Files seeks to answer the compelling question "Who was Richard Wagner?" through an expansive, museumquality selection of animated sequences, videos, interactive maps, historical letters, musical scores, photographs, and other elements that cast the mystery, genius and controversy of Wagner in a completely new light.
However, unlike conventional graphic novel apps that offer a passive user experience, The Wagner Files is dynamically interactive, and as such users can decide how they wish to experience the story by either swiping through the pages, or by listening to voiceovers that are brilliantly delivered by renowned actors.
Users can also treat themselves to over 60 minutes of original Wagner music, or explore interviews with leading Wagner experts, such as Katharina Wagner (greatgranddaughter and director of the Bayreuth Festival), Simone Young (musical director of the Opera Hamburg), conductor Philippe Jordan, Cosima-biographer Oliver Hilmes, and more.
Plus, users will also enjoy the remarkable "music machine" by American music animator Stephen Malinowski, who transforms the overture of "The Flying Dutchman" note-bynote into animated circles, lines and squares. Malinowski, who has recently worked for Björk, is a star in the online world and his visualizations of classical music have been viewed over 100 million times.
"Only few people know that Wagner was not only a great composer, but at the same time he was also a maniac, anti-Semite, womanizer and trickster," commented Christian Beetz, CEO of gebrueder beetz filmproduktion. "We wanted to tell all of the facets of Wagner's life story in a compelling way."
The new international version of the unique interactive graphic novel The Wagner Files is available now in the App Store at https://itunes.apple.com/app/wagnerwahn-hd/id645473964.
The Wagner Files is nominated for a Prix Europa Online Award for Best European Online Project of the Year 2013.
A video trailer and screenshots of The Wagner Files, along with additional app information, can be found at http://www.gebrueder-beetz.de/en/productions/the-wagnerfiles-app.
For more information or media inquiries, contact Mark Johnson on behalf of gebrueder beetz filmproduktion at +1 408 757 0156 or press(at)appshout(dot)com.
About gebrueder beetz filmproduktion
Gebrueder beetz filmproduktion has produced more than 100 high-quality documentaries and documentary films for the national and international markets since its foundation in 2000. In addition to the CEOs Reinhardt and Christian Beetz, the team consists of 30 employees working in branch offices in Berlin, Hamburg, Cologne and Lüneburg. Its productions regularly screen in the competitions of major international film festivals and have received numerous respected awards, including the Grimme Award, the Prix Europa, the Cinema for Peace Award and the German Television Award, and even an Oscar nomination for Best Short Documentary (Open Heart). In 2012, the Jahrbuch Fernsehen declared the company as one of the most successful non-fiction production companies in Germany. Its projects are aimed at innovatively conveying culture to a broad, international audience. Since 2007, the company has been complementing their cinematic content with cross-media formats such as web campaigns, apps for tablet PCs and smartphones, web documentaries, media events and books.
Learn more at http://www.gebrueder-beetz.de/en/.