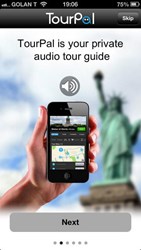 Our vision is to define the new era in modern tourism and to bring the power of the knowledge of the masses to all tourists
Cupertino, CA (PRWEB) October 23, 2013
TourPal, a leading travel guide smartphone application, has announced it raised over $1 million in series A funding to be used for marketing of the new IOS version features and the launch of its Android application. The money was raised from private angel investors. To celebrate this TourPal are offering many of their USA tours for free (for a limited time).
The funds are going to be used for promotion of the latest IOS version that includes TourPal's brand new crowd-sourcing based recommendation system for restaurants, bars, shopping and more as well as marketing of their recently launched Android travel guide app.
The recommendation feature takes a fresh approach to the task of helping tourists and locals find only the best restaurants, bars and shops around them in all places covered by the app. It does so by scouring the social networks, checking which places have gotten the most social signals (i.e. likes, check-ins, Instagram tagging etc) and showing them on an interactive, GPS based map. This way only the most popular places are shown and the users don't browse through an endless selection.
Another benefit of this novel approach is that there is no need to accumulate a massive amount of app users for this system to be effective (as oppose to user generated reviews), the unique algorithm used is all that is needed. The places are shown with the amount of likes and check-ins they got along with the Instagram photos taken there, so for restaurants for example, you can actually see photos of the dishes and the place's décor.
"Our vision is to define the new era in modern tourism and to bring the power of the knowledge of the masses to all tourists. " says Mr Boaz Beeri, CEO of TourPal " This fund round, will assist to promote our new IOS version and the Android app launch thus aiding in realizing this vision" he adds.
To celebrate this TourPal are offering many of their USA audio tours for free (for a limited time). Free tours include Washington DC, San Francisco, Miami, Las Vegas, Chicago, Philadelphia and more. This is in addition to their always 100% free: offline and online maps, tour routes, recommendation system for restaurants, bars and shopping, travel tips, multilingual support and more.
TourPal, the innovative new way to enjoy GPS based tours around the world, is available as a free download, for more information visit http://www.tourpal.com
Download for iOS from the App Store at:
https://itunes.apple.com/app/tourpal-travel-guide-audio/id570625667
Download for Android from Google Play at:
https://play.google.com/store/apps/details?id=com.opentech.tourpal
About TourPal
Founded in 2011, TourPal LTD, a privately held startup company, creates unique and comprehensive solutions for today's tourists. TourPal's goal is to produce innovative applications for a variety of platforms while upholding the highest standards of quality. TourPal's app offers free online and offline maps, free unique recommendation system for restaurants, bars and shops, multilingual audio guided tours that were created by professional tour guides and more.
Learn more: http://www.tourpal.com