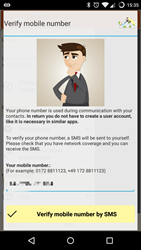 Cupertino, CA (PRWEB) December 08, 2015
Phone Tracker Productions announced today that it has launched its new no-cost app Track Mobile Phone, which lets users easily track the location of one or more of their contacts anytime, and anywhere.
Suitable for everyone from parents who want to ensure that their kids are safe and sound, to businesses that want to ensure employees are where they should be, Track Mobile Phone lets users send location sharing requests to any address book contact or groups (all contacts must have the app installed to receive a request).
If consent is granted, then location information is shared. Any user can disable location tracking at anytime, and no separate user account is required (users are uniquely identified via their mobile number). Tracking is typically done via GPS, although users can choose non-GPS methods as desired.
Furthermore, users can create "notification zones", which are specific geographic areas. When one of their location-sharing contacts enters or exits the zone, users receive an audible and visual notification. This feature is particularly useful for group gatherings.
However, what might be Track Mobile Phone's most important and impressive aspect is its unique emergency call feature, which lets users rapidly call for help and send their location information in the event of accident, emergency, or other dangerous or risky situation. The emergency call is also sent by SMS, which means that the recipient doesn't need to have the app installed to get the message.
Other Track Mobile Phone special features include:

A built-in chat function to connect with individual contacts or groups.
The option for users to see the last time a contact used the app, as well as their last known location.
Several simple options for inviting friends to download the app, including WhatsApp, SMS, email, etc.
"Track Mobile Phone is not an Android app that has been designed to spy on people," commented a review published earlier this month on AndroidHeadlines.com. "Instead it is to help and keep people safe…[the app] has a lot of utility in it, and it's one that has a lot on offer. As a tool to be used by parents, businessmen or whoever else, this is great for a group of people or a team that need to keep tabs on people and where they end up during the day".
Track Mobile App, the new no-cost app that lets users geo-locate their contacts anytime and anywhere, is available now from Google Play at https://play.google.com/store/apps/details?id=de.nr.android.app.locator.
For all other information or media inquiries, contact Mark Johnson on behalf of Phone Tracker Productions at +1 408 757 0156 or press (at)appshout(dot)com.
About Phone Tracker Productions
Phone Tracker Productions is based in Nuremberg, Germany and founded by experienced developer Niklas Reuter. Developing mobile software for several years, Niklas is steadily building a portfolio of well received apps.