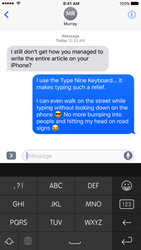 Cupertino, CA (PRWEB) February 18, 2017
After two long years in the making, worldwide fans of Porsager's must-have productivity app Type Nine Keyboard – as well as iPhone and iPad users that have yet to discover why the app is hailed as "the ultimate iOS keyboard" – can now head to the App Store and download the latest and by far the greatest version.
Version 2.0 of Type Nine Keyboard is the world's very first keyboard app that combines t9 keypad layout with swiping. Once users get familiar with the movements – and it only takes a little practice – they'll be amazed at how much faster, easier and more accurately they can type. Editing is a breeze thanks to the seemingly magical swipe cursor move and swipe deletion functionality (by the sentence, word or letter).
The app also has full support for VoiceOver, which is an Apple-developed accessibility feature (a11y) for blind, low vision, and visually-impaired users. When this feature is enabled, users will hear which key their finger is on, and can type accordingly.
In addition, Type Nine Keyboard offers built-in support for 34 different languages. As a result, users don't have to switch keyboards when they need to type in a different language or alphabet. They also get automatic word suggestions in their target language, and can add new words to the dictionary in seconds. The app also constantly gets smarter and ensures that the most frequently typed word is always suggested first.
Other Type Nine Keyboard special features that include:

A selection of easy-to-change themes to suit each user's mood and preference.
Full access to all iOS emojis and smileys, which are automatically sorted from most used to least used.
The ability to re-size the keyboard for one-handed typing – which is ideal for users with an iPhone 6 plus or iPad.
Easy-to-follow tutorials that make it simple to get started and take advantage of the various tools and functions.
Plus, the latest version 2.0 is 8x faster than previous editions, and is designed with a re-imagined interface that is crisp, colorful, and intuitively lays out information and buttons.
"We worked extremely hard on this new version, and with several game-changing improvements and enhancements, we're confident that it's going to set a new standard for keyboard apps!" commented Rasmus Porsager.
Type Nine Keyboard, the world's first keyboard app that combines t9 keypad layout with swiping, is available now from the App Store at https://itunes.apple.com/app/typenine-ultimate-t9-style-keyboard/id926008509.
As noted above, Type Nine Keyboard currently supports 34 languages, including: English, Spanish, Portuguese, Russian, German, Danish, French, Turkish, Italian, Dutch, Norwegian, Polish, Greek, Romanian, Bosnian, Catala, Czech, Basque, Finnish, Irish, Croatian, Hungarian, Lithuanian, Latvian, Slovak, Slovene, Albanian, Swedish, Serbian latin, Serbian cyrillics, Bulgarian, Scottish Gaelic, Galician, and Manx. Users are invited to contact the developer to request new languages.
For additional app details, including a demo video, visit https://www.typenineapp.com.
For all other information or media inquiries, contact Mark Johnson on behalf of Rasmus Porsager at +1 408 757 0156 or press (at)appshout(dot)com.
About Porsager
Based in Denmark, Rasmus Porsager is an inventor, designer and app developer who focuses on creating solution that improves peoples' lives, and enables them to enjoy more fun and freedom.
View the full Press Release in the appshout! Newsroom at: http://d.pr/Kfo2