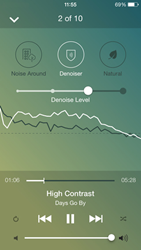 UrbanDenoiser Player completely re-invents how people listen to and love their music!
Cupertino, CA (PRWEB) June 12, 2015
Music lovers – from casual fans to obsessive audiophiles – who want to take their listening experience and overall enjoyment to a higher level, can head over to the App Store and download IT ForYou's remarkable new no-cost app UrbanDenoiser Player.
Designed with an elegant and streamlined interface, UrbanDenoiser Player is a music player with four built-in listening modes: Noise Around, Natural Sound, Noise Compensation and Hearing Protection.

The Noise Around mode lets users enjoy their favorite audio tracks, while at the same time allows them to hear important external sounds such as car horns, sirens, and so on. It's also ideal for users who enjoy listening to music while also hearing natural sounds, such as birds, streams, and so on.
The Natural Sound mode uses a patented sound restoring that delivers personalized sound processing based on each user's unique hearing profile. The result is a dramatically superior audio experience.
The Noise Compensation mode uses an innovative frequency masking algorithm to automatically adjust the volume based on ambient external noise levels.
The Hearing Protection mode maximizes the volume levels of a user's favorite tracks, but without exceeding the pre-defined safe volume level.
Other UrbanDenoiser Player special features include:

A built-in hearing test, which aligns the quality of sound to each user's unique hearing preferences and capacity (note: the "Natural Sound" mode described above is based on this test).
Apple's Inter-app audio support, which enhances sounds from other applications. Users simply choose the source app and enjoy superior level of sound quality.
Support for downloading music and podcasts directly from the iTunes Library.
The option for users to combine various listening modes – such as Natural Surround + Noise Around – to suit their moods and preferences.
"Listening to music on a mobile device is supposed to be pleasant and enjoyable," commented a spokesperson from IT ForYou. "However, for millions of people, their listening experience is diminished or ruined because they have to constantly keep taking their headphones or earbuds off to hear what's going on in the world around them, or because the music isn't engineered to fit with their hearing preferences or capacity. And that's where UrbanDenoiser Player makes all the difference. It completely re-invents how people listen to and love their music!"
UrbanDenoiser Player, the remarkable new app that is a must-have for music lovers everywhere, is available now from the App Store at https://itunes.apple.com/us/app/urbandenoiser-player/id923918276. The app is available at no-cost.
Additional app information, including screenshots and a video trailer, is available at http://urbandenoiser.com.
For all other details including media inquiries, contact Mark Johnson on behalf of IT ForYou at +1 408 757 0156 or press(at)appshout(dot)com.
About IT ForYou
IT ForYou is an international developer of innovative technologies in the field of speech intelligibility and audio signal processing.
Learn more at http://itforyou.pro