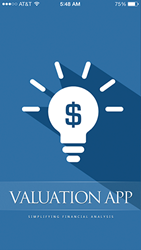 Valuation App is the ideal tool for both new and seasoned business professionals alike.
Cupertino, CA (PRWEB) May 09, 2014
Venture capitalists, entrepreneurs, investment bankers, business appraisers, and all other business professionals who want to easily perform a wide range of complex financial complications anytime and anywhere -- without having to use spreadsheets for available models -- can now get everything they need and more by downloading unique no-cost Valuation App from Sohin Shah.
Valuation App is an all-in-one financial toolkit that empowers business professionals to easily, quickly and accurately perform business valuations, forecasting, equity dilution analysis, start-up evaluations, company analysis and risk-return analysis. These functions are achieved through a comprehensive range of tools that include:

Beta
Capital Asset Pricing Model (CAPM)
Weighted Average Cost of Capital (WACC)
FCF (Free Cash Flows)
DCF Analysis (Discounted Cash Flow Analysis)
Comparable Analysis (Relative Valuation)
Precedent Transaction Analysis
Startup Costs
Shark Tank Analysis (based on the TV show)
Pre-Money & Post Money Valuation
New Shares Issued
Dilution Calculator
Equity Investment
Equity + Conditional Royalty
Break-Even Analysis
Time Value of Money
Present Value & Future Value
Present and Future Value of an Annuity
Present Value of a Perpetuity
Time
Interest Rate
In addition, Valuation App provides data numerically and through clarifying
graphs, and there's a helpful glossary of common financial terms.
"Whether users want to budget their start-up, conduct analysis and project returns in the context of risk, use a mix of analytical techniques and valuation mythologies to determine fair market value, or perform a variety of other essential functions, Valuation App makes it happen in a matter of seconds," commented Sohin Shah. "It's the ideal tool for both new and seasoned business professionals alike, and can make the difference between making smart,informed decisions based on real data vs. settling for risky resolutions based on speculation, or sometimes little more than guesses or hunches."
Valuation App, the new no-cost app that lets VCs, entrepreneurs, and other business professionals perform complex financial calculations anytime and anywhere without spreadsheets, is available now for iOS devices in the App Store at https://itunes.apple.com/app/valuation-app/id820801456, and for Android Devices in Google Play at https://play.google.com/store/apps/details?id=com.fipl.valuation.
Additional app information, including screenshots, is available at: http://valuationapp.info/.
For all other information or media inquiries, contact Mark Johnson on behalf of Sohin Shah at +1 408 757 0156 or press (at)appshout(dot)com.
About Sohin Shah
Sohin Shah in an entrepreneur with a flair for innovative ideas. A strong believer in the power of crowdfunding, Valuation App was crowdfunded by over 50 backers from the Appbackr community.
Sohin is also the co-founder of iFunding (https://www.ifunding.co), America's number one crowdfunding platform for real estate. He has previously worked at investment banks in NYC and is a graduate from New York University, with a Masters degree in Finance & Risk Engineering.