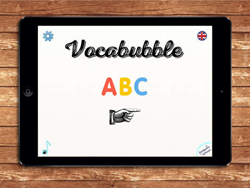 Cupertino, CA (PRWEB) September 04, 2015
All of the vocabulary that children acquire at a very young age is essential in learning to read.
With Vocabubble, children (from 3 to 7 years) discover new words in a quirky and fun universe: artichoke, iguana, Zeus, or even tablet (which they already know!)
Each letter of the alphabet has several pictures that come to life, allowing them to discover the word spelled out in full. These beautiful illustrations come from the Pictorial Webster's dictionary, which was created by John M. Carrera.
Vocabubble, can be downloaded for iPad on the App Store at: https://itunes.apple.com/app/vocabubble/id1025756787
The app is already available in 4 languages: French, English, Spanish, and German.
Promo Codes are available to journalists on request.
For further information or media inquires, contact us at contact(at)marbotic.fr
About Marbotic
Based in Bordeaux, France - is the result of a double passion for pedagogy and technology. The company creates and develops educational apps for children inspired by Montessori pedagogy. It focuses on guiding children towards autonomy. This education claims that the child's natural curiosity is strong enough to guide him or her to develop knowledge and sensitivity. Moreover, the company believes that mixing digital interfaces and traditional toys leads to powerful learning experiences. Marbotic created the first wooden smart toy, 10 digits, that interact with tablets.
For more information, please visit: http://www.marbotic.fr/en