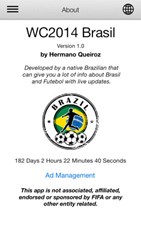 As a native Brazilian who loves soccer and Brazil, creating this app was truly a labor of love!
Cupertino, CA (PRWEB) December 23, 2013
Fans of the beautiful game who are counting down the days, hours and seconds until the FIFA World Cup 2014 kicks off in Brazil, can now download the must-have new app WC2014Brasil and get all of the information and updates they want, right in the palm of their hand.
Designed by Hermano Queiroz to be the tournament's unofficial, yet definitive app to all 32 teams dreaming of glory, WC2014Brasil features:

24/7 news updates with push notifications, so fans won't miss a single detail
A database of all venues, including history, pictures and interesting facts
Information on all countries participating in the World Cup
Comprehensive match results for all stages, including group, round of 16, quarter finals, semi final, 3rd place and the final
Multi-language support in English, French, Spanish, Portuguese and German. Users can also
A fun built-in foosball game (available as a separate purchase)
In addition, WC2014Brasil features a handy section that provides tourists with helpful information that they'll need while traveling in Brazil, including basic Portuguese phrases, money exchange data, and local weather reports. They can also use the search feature to find local destinations.
"As a native Brazilian who loves soccer and Brazil, creating this app was truly a labor of love," commented Hermano Queiroz. "Soccer is truly the world's most beautiful, magnificent sport, and WC2014Brasil is the perfect way to enhance the World Cup experience for any fan!"
WC2014Brasil, which features live World Cup 2014 updates, detailed venue and team information, standings and results, and much more is available now from the App Store at https://itunes.apple.com/app/wc2014brasil/id691036369. The app is compatible with iPhone, iPad and iPod touch. Additional app information is available on the developer's Facebook page at https://www.facebook.com/WCB2014.
For more information or media inquiries, contact Mark Johnson on behalf of Hermano Queiroz at +1 408 757 0156 or press(at)appshout(dot)com.
About Hermano Queiroz
Hermano Queiroz is a native Brazilian looking to share information and live updates relating to the 2014 football World Cup, Brazil and Futebol.
Standard Disclaimer: WC2014Brasil is not associated or affiliated with FIFA or any other third party.