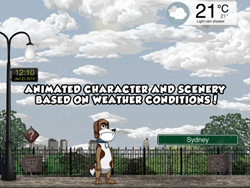 Cupertino, CA (PRWEB) March 07, 2014
On February 20th 2014, the Montreal startup Bluzeg launched its all new app, Weather Chum, in the highly competitive weather applications' market. After a week of success in the world, Bluzeg decided to reach even more people with a new enhanced version and by making the application free.
Fed by information taken directly from World Weather Online weather API, the app uses actual and long term forecast meteorological data to build animated sceneries along with different cartoon characters reacting to real weather events helped by realistic sounds effects.
Some of the features include seasonal cycles using longitude and latitude data, percentage of clouds, the sun's position, moon phases, additional locations and 7 day forecast. Users can watch as the app adapts its graphical scenarios as well as the characters' humor to follow actual weather conditions such as rain, wind, snow, thunderstorms or just the sun shining on a beautiful day.
Also available is the option to share an image on Facebook depicting the current character on top of different sceneries and conditions with an added comic style bubble containing the users' chosen words.
Weather Chum is available for free for all iPad, iPod and iPhone on the Apple AppStore. An Android version will beavailable as well in March 2014.
About Bluzeg:
A startup founded in 2013 and operating from Montreal, (Quebec) Canada, Bluzeg specializes in mobile applications development in the entertainment business.