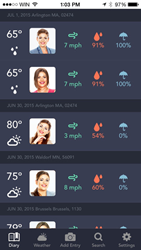 Cupertino, CA (PRWEB) August 19, 2015
Users can also take daily selfies and use the app to help them choose the ideal hair style based on prevailing or predicted weather conditions.
Teens, adults, seniors and even kids who are fed up with the weather wreaking havoc on their meticulously coiffed hair – whether it's rain, humidity, wind, snow or anything else that Mother Nature throws their way – can now head to the App Store and download the innovative new no-cost app that will, once and for all, allow them to say goodbye to dreaded bad hair days: WeatherBrush.
Created by WeatherBrush, LLC and destined to be one of those essential "how did I survive without this?" apps, WeatherBrush takes the guesswork out of daily styling by providing users with real-time weather data for their location, including current conditions, and both hourly and 7-day forecasts. As a result, they can be confident that the time and effort they put into styling their hair doesn't go to waste because of the elements – and leave them with an unflattering look that fills them with embarrassment, anxiety or dread.
In addition, WeatherBrush has a brilliant "Diary" feature that helps users learn how they should style their hair based on prevailing or predicted weather conditions. Users simply take selfies, and add tags and comments describing any relevant hair-related details (e.g. "I was outside for hours today and this style totally rocked!"). They can then use the Diary to find their best look based on similar weather. Users can also set reminders to take selfies throughout the day, and send snapshots of their best looks to friends via
social media.
"How often do each of us spend a lot of time getting our hair just right, and then have all of our hard work wasted when we head outside?" commented Jackie Gonin of WeatherBrush. "And it's even worse when we're heading out for something important, like a wedding, job interview, first date, and so on. Well, that miserable experience is finally over, because WeatherBrush gives people the information and insight they need to enjoy a good hair day, every day!" WeatherBrush, the innovative new no-cost app that lets people say goodbye to dreaded bad hair days, is available now from the App Store at https://itunes.apple.com/app/weatherbrush/id1016421991.
For additional app information including screenshots, visit http://www.weatherbrush.com. For all other details including media inquiries, contact Mark Johnson on behalf of WeatherBrush at +1 408 757 0156 or press (at)appshout(dot)com.
About WeatherBrush:
WeatherBrush, LLC is a family owned business started in 2015 with the vision of bringing together technology and style to provide solutions to women's greatest hair challenges.