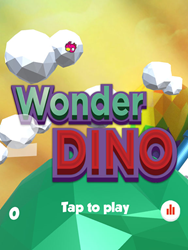 Cupertino, CA (PRWEB) November 28, 2016
People looking a fun, challenging, visually stunning, and utterly addictive new game to play for hours and hours – day and night – can now head to the App Store and download the new app Wonder DINO.
Developed by Cloud NET, Inc., Wonder DINO is refreshingly simple to understand, but tough to master. Users take control of a cute little flying dinosaur, who they must keep in the air by tapping their screen. A single tap elevates the dinosaur a little bit, while several quick taps in succession sends him much higher.
The reason this flight control is so important, is because the cute little dinosaur isn't the only thing in the sky: there are also cylinders that drop from the sky and emerge from the ground. However, in between the two columns (downward and upward) is small opening, and users must position the dinosaur to pass through that space.
What makes the game even more fun and challenging, is that the dinosaur cannot stop flying and take a break: he must constantly pass through opening after opening, because the columns never stop approaching. Some columns are higher up in the sky, and some are lower to the ground.
As noted, users have to tap their screen correctly in order to set the right elevation. If they're successful and the dinosaur makes it through the opening, the game continues. But if they're unsuccessful and the dinosaur touches any part of the cylinder – upper or lower – then the game is over.
Other fun Wonder DINO features include:

Exceptional 3D graphics with a soothing and pleasant color scheme, which is ideal for playing late at night.
Delightful music that compliments the gaming experience perfectly.
Leaderboard integration to compete with friends and see who has the best dinosaur flying skills.
"What makes Wonder DINO so much fun, is that people don't have to spend hours reading complicated user guides or figuring out various buttons," commented Tsunehiro Shimazaki of Cloud NET, Inc. "All they need to do is tap their screen to keep the dinosaur safely and happily in the air. And because there's always more challenges ahead, the game never gets boring or predictable. Wonder DINO gets more fun and challenging as the game goes on!"
Wonder DINO is available now for iPhone and iPad from the App Store at https://itunes.apple.com/app/wonder-dino-i-can-fly!/id1171116623. There is no cost to download the app.
For all other information or media inquiries, contact Mark Johnson on behalf of Cloud NET, Inc.
at +1 408 757 0156 or press (at)appshout(dot)com.
About Cloud NET, Inc.
Based in Tokyo, Japan, Cloud NET, Inc. are mobile app developers with a philosophy to create apps that are simple and a pleasure to use. With a portfolio of apps across a range of genres, their latest title Wonder DINO starts their expansion into mobile games.