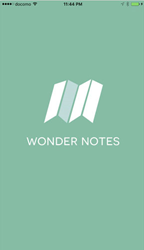 Cupertino, CA (PRWEB) May 13, 2016
Within just a few minutes of using Cloud NET Inc.'s phenomenal new no-cost note taking app Wonder Notes, users can expect to ask an unusual, but certainly appropriate rhetorical question: "how on earth did I manage to survive without this?"
Unlike other note taking apps that typically fall somewhere between tedious, dreadful, and just plain brainless, Wonder Notes truly earns its name by offering users plenty of tools and features for capturing information wherever they are: in a board meeting, on a flight, waiting in line, at 3:00am after a profound epiphany -- there's no limit.
Here's how Wonder Notes works: users create a note (a.k.a. an aptly-titled wonder note), and then populate it as they wish with text, pictures, maps, recorded audio, and URLs. There are more ways to use the app than can be highlighted here, including to-do
lists, memos, blog post ideas, and so on. Basically, if it's a note of any kind – formal or informal, professional or personal – users can rapidly and neatly capture it in Wonder Notes. There are even customizable text-entry forms to make the process easier and
faster.
Once they've finished their note (which can be edited later as desired), users can send it to cloud-based solutions like Evernote, Dropbox and Google Drive as well as email it to themselves or anyone else. Cloud storage also makes device syncing, data backup and data recovery a breeze.
Additional Wonder Notes features include:

QR code scanning to instantly populate URL and emails fields
Airplane Mode for writing and saving notes while offline
The ability to launch the app from a URL or phone number
The option to export notes in various file formats for additional editing or storage, including CSVs and PDFs
A clear, uncluttered interface that makes finding information easy
"Wonder Notes isn't an ordinary note taking app," commented Tsunehiro Shimazaki of Cloud NET Inc. "It's a multi-faceted, feature-rich and customizable personal database that lets users save, share and send exactly what they want, when they want, and to
whom they want!"
Wonder Notes is available now at no-cost from the App Store at https://itunes.apple.com/app/wonder-notes/id991468120.
For all other information or media inquiries, contact Mark Johnson on behalf of Cloud NET Inc. at +1 408 757 0156 or press (at)appshout(dot)com.
About Cloud NET Inc.
Cloud NET Inc.'s founder Tsunehiro Shimazaki was inspired to enter the world of mobile applications after meeting Steve Jobs more than two decades ago. Currently, the company focuses on developing apps for the productivity, business and educational markets, as well as creating solutions to help disabled individuals