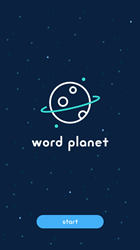 Cupertino, CA (PRWEB) August 22, 2016
A refreshingly simple idea, Word Planet is one of those games which can be played onehanded whilst eating lunch, leaning out of the shower, or on the train into work. It's no less an addiction than the current Pokemon Go phenomenon but it's a deceptively gentle addiction - more like a soothing cup of tea than a can of energy drink.
Letters tumble down the players screen against creatively designed backdrops of imaginary planets, and must be to be made into prescribed words as you play, and so is useful for those who want to keep their brains active without being too challenging, as well as being fun for anybody who wants to zone out of their day and while away a few minutes - or hours.
Zain Khan and app development and design agency Dreamr collaborated closely, to build on a great initial concept to create Word Planet, an app for iOS and Android in Unity, because of of its multi-platform capabilities. It's the industry-leading game engine which allows you to create 2D, 3D and Virtual Reality games and deploy them to a range of platforms with just one click.
The future of Word Planet is assured. Further planets - and therefore more worlds and words to explore will be made available in the next release.
Word Planet is free to download and can be played without additional cost. Optional in-app purchases are available.
Discover more about Word Planet at: http://www.wordplanet.net
Word Planet, the additive and enjoyable word game, is available now for iPhone & iPad via the App Store at: https://itunes.apple.com/app/word-planet-game/id1092632998
A dedicated version for Android devices is also available via Google Play at: https://play.google.com/store/apps/details?id=uk.dreamr.wordplanet&hl=en_GB
About Dreamr
Award-winning design and development agency that creates immersive experiences for Phone, TV, Watch and Web.
Dreamr works with brands to design and develop iPhone and Android apps for the Phone, TV, and Watch along with bespoke websites. Our team of designers and developers in Manchester push the boundaries of what's possible because we believe in the value of positive change to challenge, inspire and deliver dreams.
Headed up by Mylo Kaye and Jack Mason, we have expanded since 2014 to now having 16 staff and creating immersive app development and design projects for clients across the globe.
Learn more: http://www.dreamr.uk