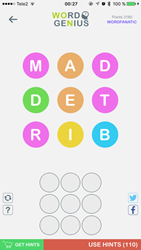 People around the world have fallen in love with WordGenius!
Cupertino, CA (PRWEB) October 03, 2015
Boggle and other word game lovers who are looking for their next big challenge, can now head to the App Store or Google Play and download the new no-cost app WordGenius!, which some early reviewers are hailing as the "ultimate brain teaser".
Created by JN Interactive AB and available at no-cost, WordGenius! is simple to understand, extremely addictive, wonderfully fun – and astonishingly tough to master. In fact, only a few users so far have managed to finish the entire game.
As noted, WordGenius! is refreshingly simple to understand, which means that users will be playing and having fun instantly vs. spending hours trying to figure out how to get started. Here's how it's played:
Users are presented with various, randomly-arranged letters that they must swipe in order to spell a set number of words. There are seven levels arranged by degree-ofdifficulty, and each awards successful users with a haul of "Genius Points":

Turtle: (2x2 grid = 4 letters; 10 Genius Points)
Rabbit (3x3 grid = 9 letters; 30 Genius Points)
Cat (4x4 = 16 letters; 50 Genius Points)
Parrot (4x4 = 16 letters; 70 Genius Points)
Dog (4x4 = 16 letters; 90 Genius Points)
Panda (5x5 = 25 letters; 120 Genius Points)
Camel (5x5 grid = 25 letters; 140 Genius Points)
As would be expected, Turtle is quite easy, and more of a way to get users familiar with the gameplay. The middle levels are suitably tough, but not impossible. The upper levels, however, are mind-bendingly difficult – and as noted, very few users have made it all the way to Camel and finished the game.
What's more, a key feature that makes WordGenius! unique from other word games is that there is only one way to solve each puzzle. For example, if a user must find three words to complete a level, there is only one possible solution (i.e. only one way to use the letters correctly to spell all three words). However, there are multiple ways to spell one word or two words. As a result of this brilliant twist, users must always "think ahead" – because the letters they're using to spell word #1 might actually be needed to spell
word #2 or #3.
If they can't spell all of the required words with the remaining letters, users will have to start over. Or if they wish, they can activate a hint and keep playing – provided that they ave hints remaining.
"People around the world have fallen in love with WordGenius!", commented Jean Can of JN Interactive AB. "It provides endless hours of fun, and there's always a challenging puzzle ahead!"
WordGenius!, the simple and highly addictive new word game, is available at no-cost from the App Store at https://itunes.apple.com/us/app/wordgenius!/id1014519678, and from Google Play at https://play.google.com/store/apps/details?id=com.jninteractive.wordpuzzle
Additional app information, including screenshots, is available at jninteractive.com.
For all other information or media inquiries, contact Mark Johnson on behalf of JN Interactive AB at +1 408 757 0156 or press (at)appshout(dot)com.
About JN Interactive AB
Based in Stockholm, Sweden and established in 2011, JN Interactive are a creative gaming studio with numerous apps in the top rankings of the US App Store charts.
Having gained great success with their portfolio of apps, including an official partnership with Mojang, JN Interactive strive to develop pixel-perfect environments, with an incredible user experience in all our apps.
Learn more at http://www.jninteractive.com