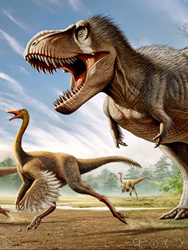 Cupertino, CA (PRWEB) November 08, 2014
No other group of animals has triggered the curiosity and interest of as many people around the world as dinosaurs. No matter the age, gender, or nationality of the reader, the evolution and diversity of these kings of the Mesozoic era evoke wonder and fascination. Dinosaurs have been brought back to life in our dreams, schools, museums, and theatres and now by the amazing World Of Dinosaurs for iPhone.
World Of Dinosaurs takes advantage of the fact that we are currently living in the golden age for dinosaur discovery and presents comprehensive information based on the latest discoveries and scientific theory, within a beautiful multimedia presentation. World Of Dinosaurs include amazing high-definition original illustrations by Mohamad Haghani, which along with the accompanying information creates the ultimate dinosaur resource covering dinosaurs of all time, discovery, extinction and even dinosaur ancestors still alive today.
Appersian spent almost two years researching and designing World Of Dinosaurs and the app has also been specifically optimized with edge-to-edge images for retina displays, ensuring the content looks drastically sharp on all devices, including the recently released iPhone 6 and iPhone 6 Plus.
World Of Dinosaurs is also an experience that children will love and the easily readable articles and immersive experience can even encourage younger users to discover the joys of reading.
As well as the large array of comprehensive information, the app also features:
> Stunning & original dinosaur illustrations compatible with high-definition retina devices.
> High-quality Dolby audio containing scientific approximations of the sounds made by dinosaurs and their environment.
> Scrollable backgrounds using the device gyroscope.
> Information about plant or meat eaters.
> Full information about the age of dinosaurs: how fossils form, prehistoric reptiles, extinction events and more
> An easy to navigate table of contents, including: meaning, pronunciation with voice, size comparison and more.
> Content in three languages: English, Spanish and Persian (more languages to follow).
> Optimised content for iPhone 6 and iPhone 6 Plus.
World Of Dinosaurs is designed and developed by Appersian Dev Group, and it's available in App Store at: https://itunes.apple.com/app/world-of-dinosaurs/id892137108
For more information please visit http://appersian.net or contact Appersian info(at)appersian(dot)net.
About Appersian
Appersian is a well experienced team of senior developers based in Iran . Our good experience with custom development and the Macintosh and iOS platforms allows us not to bother with how but to fully concentrate on what.Our team of highly creative designers for design great user interface for iOS and Mac apps .In the world of mobile devices the combination of user interface and user experience is crucial. The sense for perfection is in our veins.
Learn more: http://appersian.net