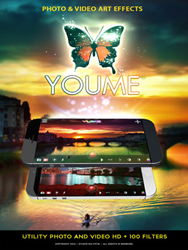 With YOUME users can effortlessly personalize and customize their digital assets, so they truly reflect their unique preferences and styles.
Cupertino, CA (PRWEB) November 08, 2014
iPhone and iPad users who want to easily customize all of their photos and videos to make then more beautiful, special, exciting, memorable and fun, can now download Studio Eclyptik's stunning new no-Cost app YOUME - Image and Video Effects.
Inspired by the vision of giving each user the power to personalize their library of digital assets (the developers at Studio Eclyptik like to phrase this as "to each their own YOUME!"), the app is significantly more than a typical photo and video editing utility for five reasons:
1. Users can easily add more than 100 filters and effects that are neatly organized in various "Packs", including: Color, Gradient, Deformation, FX, TV, Contour, Blur, 3D Particle and Lensflare. Additional Packs that are currently in development and will be released soon include Texture and Frames.
2. Filters and effects are applied in real-time, which allows users to immediately see whether they're happy with the change or want to try something else.
3. Filters can be combined and customized to create truly one-of-a-kind photos and videos that don't exist anywhere else.
4. Users can access professional-grade video recording in multiple display resolutions depending on their needs and storage capacity, including: 480P, 640P, 720P, 1440P and 1920P.
Other YOUME special features include:

A streamlined and elegant interface that is easy to navigate.
A convenient snap share option to send photos and videos to friends and followers.
Support for multiple display formats, including 16:9, 4:3, and 1:1
An impressively small footprint for such a large package (less than 40MB).
"One of the most enjoyable things people do with their iPhone or iPad is create, store and share photos and videos – whether it's a day out with friends, while on holiday, or anytime and anywhere else," commented Loïc Lenouvel from Studio Eclyptik. "And now with YOUME, they can effortlessly personalize and customize their digital assets, so they truly reflect their unique preferences and styles. YOUME is fun, simple, fast and creative. As we like to say: to each their own YOUME!"
YOUME – Image Video Effects, the stunning new no-cost photo and video editing app that features more than 100 real time filters and effects, is available now from the App Store at https://itunes.apple.com/app/youme-image-and-video-effects/id894407898.
For more information or media inquiries, contact Mark Johnson on behalf of Studio Eclyptik at +1 408 757 0156 or press(at)appshout(dot)com.
About Studio Eclyptik
Established in 2011, Studio Eclyptik specializes in developing iOS and Android mobile apps that include games, utilities and more. The France-based development firm also provides clients around the world with a full array of end-to-end professional services, including app development (for both web and mobile), graphic design, augmented reality, and more.
Learn more at http://eclyptik.fr