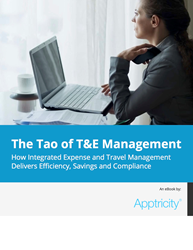 Dallas, TX (PRWEB) July 22, 2014
Implementing an automated travel and expense management solution is critical for companies that want to increase efficiency, savings and compliance. Automation simultaneously eliminates wasted efforts while delivering command visibility for compliance and auditing.
The old, manual process renders travel spending opaque to C-level managers or company owners. The shift from paper-based T&E processes to a multi-tiered, automated travel and expense software system allows employees to travel just as much and achieve the same sales performance, but most importantly, save the company money.
Apptricity, a provider of mobile enterprise software solutions, recently published an eBook highlighting the top four benefits of an effective automated travel and expense management application.
1. Real-Time Budget Control. Automated T&E systems provide significantly improved, real-time budget control. When booking travel plans, details from a flight, hotel or rental car reservation flow directly into the accounting system so it can be approved or declined. Having travel and budget policies integrated and enforced through one solution allows managers to see in real-time the amount of resources being spent on specific trips, dinners or events. Eliminate surprises and give managers more control by tracking exactly where resources are going and why.
2. Improved Auditing Powers. The T&E system can be integrated with company's specified travel agent group, giving in-house auditors X-ray vision over expenses. The system can send pre-trip authorizations to managers for approval or automatically search and flag potential duplicate charges across an employee's complete travel history. Or it can randomly review a certain percentage of expense reports over a specific dollar amount. For travel managers, the increased visibility keeps track of all traveling employees, who they're with and what they're spending company resources on.
3. Enforced Use of Preferred Vendors. Greater real-time visibility of corporate travel and entertainment spending allows managers to make sure the organization reaps the benefits of negotiated rates with preferred providers. Whether requiring that employees fly with the company's preferred airline, or stay at preferred hotels, advanced T&E tracking and reporting systems give managers exponentially greater control over employee spending.
4. Increased Value from Partnerships. Most preferred provider and corporate card deals are structured to provide the greatest benefits to companies that meet certain spending levels. To help reinforce employee spending with preferred providers, T&E corporate systems can track in real-time a company's spending performance against the preferred providers' contracts. If needed, the system can block employee travel purchases that work against the company's efforts towards achieving critical milestones with preferred providers.
Apptricity's eBook is available for download at http://www.apptricity.com/wp-content/uploads/documents/ebooks/EB_The_Tao_of_T-E_Management_eBook_v1.pdf.
About Apptricity
Apptricity Corporation provides mission-critical supply chain management and integrated finance solutions to Fortune 500 companies, small and midsize enterprises and government organizations across the globe. Apptricity software and solutions mobilize any enterprise with unprecedented levels of real-time information and business intelligence so management has visibility into every action and transaction within the enterprise and among its partners, customers and suppliers. Jetstream, our revolutionary platform, enhances legacy enterprise applications and extends the value of information technology investments. Apptricity Jetstream, Apptricity Smartfleet and Apptricity's other applications address the universal objectives of business, government and the military with accelerated business processes and command visibility. For more information, visit http://www.apptricity.com.