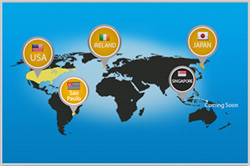 (PRWEB) March 27, 2014
AppWarp Real-time Multiplayer cloud engine from ShepHertz has released APIs that allow applications to dynamically switch between different geographic regions. AppWarp cloud currently has servers deployed in US, Japan and Europe. As developers are targeting audiences from different regions for their games- the ability to connect to the closest server was much needed.
User experience of online multiplayer games is greatly affected by the latency in message transfer among players. AppWarp cloud services have been engineered to offer lower latency and one of the ways that is achieved is by having servers deployed in different regions. This allows developers to connect to the server with the lowest ping time. Since developers are targeting audiences in different regions for their games, it is required that the applications can at run-time decide which region to connect to for the lowest possible latency.
AppWarp Multiplayer Cloud was launched last year by ShepHertz technologies and seen great adoption in the developer community. A great way for developers to get started on this is to visit this post on ShepHertz official blog.
About ShepHertz
ShepHertz is a Cloud Ecosystem Provider for Apps i.e. Mobile, Web, Social, Gaming and TV Apps. ShepHertz' endeavour is to make App developers successful on the Cloud, irrespective of the technology or platform on which they are developing. Their product line provides one-stop-shop ecosystem for developing Apps on the Cloud. Their Product line consists of App42 Cloud API – BaaS (Backend as a Service), AppWarp- Multiplayer Gaming Engine, App42 PaaS with App42 BPaaS & GPaaS solutions.