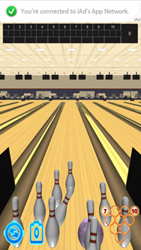 NewsWatch AppWatch reviewed the 4D Ten Pin Classic for the iPhone and absolutely loved it. Great app for bowling fans!
Washington, DC (PRWEB) August 14, 2014
"4D Bowling Ten Pin Classic" was featured on NewsWatch as part of its monthly NewsWatch AppWatch, which takes a look at the latest and coolest apps on the iOS, Android, and Windows markets. Andrew Tropeano, a host of NewsWatch and a mobile technology expert, conducted the AppWatch review and shared with viewers how it's a fun and easy way to go bowling without leaving the house.
According to a recent survey conducted by the Bowling Proprietors' Association of America, Bowling is America's favorite participatory sport, ranking higher than football, baseball, and even golf. Fans of the sport and anyone who wants to play a few frames can either get in the car and head to the nearest bowling alley, or they can download a bowling app.
NewsWatch AppWatch recommends 4D Bowling Ten Pin Classic for the iPhone. It's a free app that uses the gyroscope and accelerometer in the iPhone to simulate the bowling experience. Players can add spin or hooks, throw slow or fast, and it's all dependent on the windup and delivery.
Once the app has been download, users can start playing. They wait for the countdown, then wind up, and deliver. If a bowler needs to hit the right side, they must angle their phone to the right. If a bowler needs to hit the left, they angle the phone to the left. At the end of the match, bowlers see their score.
4D Bowling Ten Pin Classic for the iPhone is a fun and simple game for anyone who wants to bowl in the comfort of their living room or kitchen. To download it, just search "4d Bowling Ten Pin Classic" or visit https://itunes.apple.com/us/app/4d-bowling-ten-pin-classic/id884203020?mt=8.
About NewsWatch
NewsWatch is a weekly 30-minute consumer oriented television show that airs on the History Channel, FYI Network, and ION Network. NewsWatch regularly features top technology products and services, mobile applications for iOS, Android, and Windows devices, unique and beautiful travel destinations around the world, health and medical tips, and entertainment interviews on the show. NewsWatch airs on the History Channel at 6:00 – 6:30 AM ET/PT and on the FYI Network from 7:00 – 7:30 AM ET.
NewsWatch is located in the greater Washington, DC area and has been on air for over 25 years. For more information or to watch the most recent episode, visit https://www.youtube.com/playlist?list=PL38E2BED0E97B3487.