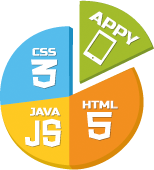 The addition of APIs is about minimizing development complexity, while still allowing for plenty of extensibility to our frameworks and customization of the application
New York (PRWEB) November 26, 2013
Appy Pie, world's fastest growing cloud based DIY mobile app maker, adds APIs of popular image sharing platforms such as Facebook, Flickr, Pinterest, Picassa and Instagram in its app maker software. The APIs added in app maker will enable app developers to share their images or photo albums with their app users in real time.
"Every day we receive many requests for adding new API's so it becomes imperative for us to continuously add them to our platform. This time we have updated our app maker with APIs of Flickr, Facebook, Pinterest, Picassa and Instagram which are widely used image sharing platforms. The addition of APIs is about minimizing development complexity, while still allowing for plenty of extensibility to our frameworks and customization of the application." said Abhinav Girdhar, CEO at Appy Pie.
The added APIs of Flickr, Facebook, Pinterest, Picassa and Instagram ensure that there will be minimal errors in the app creation process for developers. It will allow developers to focus more on user needs than on concentrating on coding part like user interface, etc. and thereby reducing the potential for errors that comes with coding part of integrating these APIs.
About Appy Pie
Appy Pie is trademark of Appy Pie Inc. Appy Pie is the world's #1 cloud based Mobile App maker Software that allows everyone to create free mobile apps. Appy Pie is Custom Mobile Application Development News software that allows anyone with no technical knowledge to create advanced applications for mobiles and smart phones. Nothing to download or install, no programming required, just drag & drop. Appy Pie was born in New York in 2011 & at this point more than 5000 apps are produced each month using the Service.
For further details, visit http://www.appypie.com/