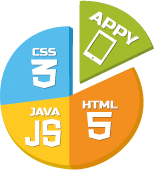 Developer Plan is different from existing plans in many ways as there is no account set up fee and developers can develop unlimited white label apps for iOS, Android, Windows and BlackBerry 10 for a nominal fees of $249 per month
New York (PRWEB) September 28, 2013
Appy Pie, a leading cloud based mobile app maker, adds a new plan for app developers in their reseller program. The new plan has been introduced by the company after huge demand from app developers for a platform to develop unlimited application for their clients using Appy Pie's app builder platform.
Earlier on 1 May 2013, Appy Pie had launched a mobile app reseller program with two plans namely SMB Plan & Enterprise Plan. Developer Plan is different from existing plans in many ways as there is no account set up fee and developers can develop unlimited white label apps for iOS, Android, Windows and BlackBerry 10 for a nominal fees of $249 per month, However in this newly introduced plan developers won't get a White Label Platform with their Company's Branding & URL but instead will be using Appy Pie's app builder.
"We were getting a lot of requests from app developers across the world who wanted to use our platform to create & manage unlimited white label apps for their clients at a fixed monthly cost, and I am sure addition of this plan will benefit thousands of app developers." said Abhinav Girdhar, CEO at Appy Pie Inc.
Appy Pie Inc., cloud based mobile apps builder has announced developer plans for its mobile app builder platform. Appy Pie's app builder was launched earlier this year and was an instant hit where more than 6000 applications were built using this app builder within a month after the launch of its beta version.
About Appy Pie:
Appy Pie is trademark of Appy Pie Inc. Appy Pie is the world's #1 cloud based Mobile App maker Software that allows everyone to create free mobile apps. Appy Pie is Custom Mobile Application Development News software that allows anyone with no technical knowledge to create advanced applications for mobiles and smart-phones. Nothing to download or install, no programming required, just drag & drop. Appy Pie was born in New York in 2011 & at this point more than 5000 apps are produced each month using the Service.
For further details, visit http://www.appypie.com/