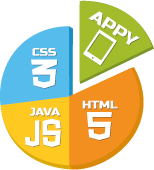 Appy Pie follows a unique method to build apps where a user will only have to input his information, a logo and leave the rest of it to their developers
New York, NY (PRWEB) May 30, 2014
Appy Pie is an online app maker that enables its users to create wonderful apps for smartphones on platforms like Android, iOS, Windows 8 and BlackBerry 10. Appy Pie has been doing a tremendous job where they are helping people with no coding knowledge or people with no technical background to create apps for their business and integrates amazing features that can easily draw users. Every day they make hundreds of apps, and since all the apps created on their platform are so good, Appy Pie had to come up with App of The Week contest. As part of this contest, Appy Pie selects the best app created in the week and awards it as 'App of The Week.' This week the app that won the contest is Laughalujah.
"Every day, our users create hundreds of apps, and these apps are so good that we had to come up with something that encourage the users to build more and more apps." Said Abhinav Girdhar, CEO at Appy Pie.
Appy Pie follows a unique method to build apps where a user will only have to input his information, a logo and leave the rest of it to their developers. The developers will then utilize all the provided information and use it to build the app.
About Appy Pie:
Appy Pie is trademark of Appy Pie Inc. that allows anyone with no technical knowledge to create mobile apps & games. Nothing to download or install, no programming required, just drag & drop. Appy Pie was launched in first quarter of year 2013 & at this point more than 19,000 apps have passed through their doors. For more details, visit http://www.appypie.com/