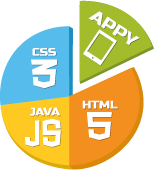 Appy Pie has become the World's only mobile app builder software that allows individuals & small businesses with no app development experience, no coding knowledge to create highly customized mobile app for just a One-Time Fee.
New York (PRWEB) August 06, 2014
Appy Pie the leading cloud based DIY app maker Introduces lifetime plans that will now allow users to create mobile apps for just a one-time fee. By subscribing to one of their lifetime plans, users will get access to flowing premium features:
1. No Ads
2. Edit/Update app
3. Send Push Notifications
4. Earn Advertising Revenue
5. Monitor Visitor Engagement
6. App Upgrades
"User satisfaction is paramount to us and we endeavor to make our users happy by ensuring that we cater to all their needs and Introduction of lifetime plans was another step aimed in the direction of improving user satisfaction, As we were getting multiple requests from our users wanting to create an app on our platform but instead of paying a monthly or yearly recurring payment, they preferred paying a One-Time payment for their app." said Abhinav Girdhar, Founder Appy Pie Inc.
About Appy Pie:
Appy Pie is Trademark of Appy Pie Inc, Appy Pie is the world's #1 Cloud based Mobile Apps Builder Software that allows everyone to create free Mobile Apps. Appy Pie is a Mobile Application Development Software that allows anyone with no technical knowledge to create advanced applications for mobiles and smartphones. Nothing to Download or Install, No Programming Required, Just Drag & Drop.
To learn more about the services offered by the company just log on http://www.appypie.com/