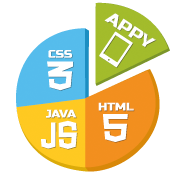 New York, NY (PRWEB) April 21, 2015
Appy Pie offers custom mobile application development services to their enterprise clients. In case of Appy Pie's DIY app builder not sufficing for the user's needs, their custom development team can design one.
They will assess the requirements of the users, and their best-in-class Custom Application Development processes supporting multiple mobile device types will provide all possible support to rollout the app. Appy Pie provides custom, line-of-business applications which help users to drive their mobile strategy. Counting on them as one point of contact for all of their mobile application needs can eliminate the cost of maintaining in-house tools or expertise.
They implement applications that are tailored to meet the specific requirements of users and help target specific business areas. Existing applications can be adapted basis current requirements. Their end-to-end development environment and best practices can be safely relied upon.
"The custom mobile app development market, and enterprise app development is set for massive growth and Appy Pie's custom development team is ready to offer our expertise, innovation and creativity to fuel future growth for the company," said Abhinav Girdhar, Founder, Appy Pie.
About Appy Pie:
Appy Pie is a Trademark of Appy Pie Inc. Appy Pie is the world's #1 Cloud-based mobile apps builder software that allows everyone to create free mobile apps. Appy Pie is a mobile application development software that allows anyone with no technical knowledge to create advanced applications for mobiles and smartphones. There is nothing to download or install, no programming required – just drag and drop.
To learn more about the services offered by the company, just log on to http://www.appypie.com/