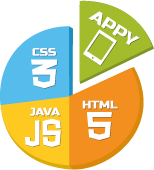 New York (PRWEB) September 30, 2014
Appy Pie, a leading cloud based mobile app maker, adds social network feature under closed beta. The social network feature will provide an easy way to connect with friends, share status updates, photos, video updates and much more. Users will be able to simply plug 'n play this feature into their mobile app.
Appy Pie is a powerful cloud-based do-it-yourself mobile app building tool that lets users without programming skills and knowledge create a mobile app for Android, iOS and Windows Phone, and publish it in iTunes or the Google Play store. Users can create their app in few minutes and they will receive a HTML5 based hybrid app that works with android, iPhone, iPad, Windows Phone and Blackberry and there is no need of installing or downloading any additional package. Everything required to create an app is available within Appy Pie's app development tool-kit and users can make their app using drag and drop facility.
As such, it's not surprising that investors are taking notice of the Appy Pie's app building platform, judging by the explosion in popularity and visibility it has seen in recent times.
"After seeing the success of Social Wall feature recently added to Appy Pie, Offering a full blown Social Network feature was the next logical step for us," said Abhinav Girdhar, Founder Appy Pie.
"With our rapidly growing client base and highly active support staff, Appy Pie is uniquely positioned to dominate this fast-growing market," added Girdhar.
About Appy Pie:
Appy Pie is Trademark of Appy Pie Inc. Appy Pie is the world's #1 Cloud-based Mobile Apps Builder Software that allows everyone to create free Mobile Apps. Appy Pie is a Mobile Application Development Software that allows anyone with no technical knowledge to create advanced applications for mobiles and smartphones -- nothing to download or install, no programming required, just drag and drop.
To learn more about the services offered by the company just log on http://www.appypie.com/