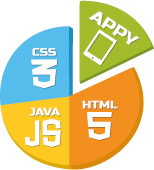 With Appy Pie's Game Builder users also have the ability to monetize their game using iAds and AdMob.
New York (PRWEB) May 20, 2014
Appy Pie, a cloud-based tool-set provider for a wide range of applications, is making its Game Builder available for free today. Appie Pie's do-it-yourself (DIY) mobile game builder enables anyone with great ideas to create a mobile game for free and with no programming experience required.
Since opening the beta version of Game Builder in January 2014, more than 500 games have been produced with the most popular game type being Flappy Bird. Game Builder currently has six exciting game templates to choose from, each with a unique gameplay including: Flappy Bird, fly & shoot, casino, tic-tac-toe, basketball and action- with many new games slated to be released in the coming months.
With Game Builder, designers can bring their mobile game to life in just three simple steps- choose the game type, name the game and then customize with characters, which can include personal photos or graphics. Once the game is complete, anyone can publish their game to iOS or Android and see their games live quickly on the Google Play & iTunes stores (pending respective approval). Additionally, users can publish their game in the Appy Pie Game Arcade and instantly test their games via developer testing links.
With Appy Pie's Game Builder, users also have the ability to monetize their game using iAds and AdMob. All games created on Game Builder are built on one of the best open source game engines, Game Closure DevKit, and are cross platform compatible thanks to HTML5 technology & Javascript.
"Appie Pie's driving mission is to make the entire app creation process effortless and enjoyable, where anyone can create a mobile app in 3 easy steps," said Abhinav Girdhar, Founder Appy Pie. "The public launch of Game Builder is an extension of that goal and we're looking forward to seeing the plethora of mobile games generated on our Game Builder platform, the world's first cloud-based mobile game creator with HTML5 technology."
About Appy Pie:
Appy Pie is trademark of Appy Pie Inc. that allows anyone with no technical knowledge to create mobile apps & games. Nothing to download or install, no programming required, just drag & drop. Appy Pie was launched in first quarter of year 2013 & at this point more than 19,000 apps have passed through their doors. For more details, visit http://www.appypie.com/.
Apple Pie HQ:
1370 Broadway, 5th floor Suite 553,
New York-10018, NY
Phone: 888-322-7617