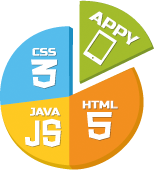 New York (PRWEB) August 28, 2014
App builder Appy Pie launches an API that will enable its users to create cutting-edge augmented reality apps with Wikitude SDK, as the SDK is now fully integrated into their proprietary cloud-based app building platform. With this feature, consumers scan an image with the app that then opens a video, map or other interactive content for information about the product or brand.
"Physical objects are often static and dumb, offering little interactivity to the end user. That is why the potential of augmented reality (AR) is getting business excited. Retailers, advertisers and industry are all now using the technology, which overlays computer-generated content with video, graphics, text, sound or GPS data on to real-world images," said Abhinav Girdhar Founder, Appy Pie.
The App Builder is known for making beautiful and interactive apps for all major platforms like android, iOS, BlackBerry and Windows 8 and already over 100,000 apps have passed through their doors. While the functionality of augmented reality is still in its infancy, Wikitude and Appy Pie have shown that those first baby steps might be more workplace uses than wow factors. But stay tuned, because AR's next step could be one giant leap into yet another world.
About Appy Pie:
Appy Pie is Trademark of Appy Pie Inc, Appy Pie is the world's #1 Cloud based mobile apps builder software that allows everyone to create free mobile apps. Appy Pie is a mobile application development software that allows anyone with no technical knowledge to create advanced applications for mobiles and smartphones. Nothing to download or install, no programming required, just drag & drop.
To learn more about the services offered by the company just log on http://www.appypie.com/
About Wikitude:
Wikitude GmbH is the renowned pioneer of mobile augmented reality (AR) technology and the company behind a number of award winning AR solutions for smartphones, tablets and wearable display technologies. Its fully in-house developed AR solution is available in the Wikitude AR SDK and Wikitude Studio, and enables thousands of apps, brands, agencies, developers and AR enthusiasts to achieve their project goals. With tens of thousands of developer accounts and published AR apps, Wikitude is the globally leading AR technology platform. The company chairs the international AR technology standardization as part of the Open Geospatial Consortium (OGC). Wikitude® is a registered trademark of Wikitude GmbH, for more information please visit: http://www.wikitude.com