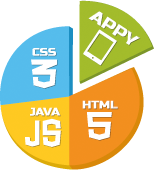 New York (PRWEB) September 16, 2014
Cloud based mobile app builder Appy Pie integrates HTTP Live Streaming (HLS) & UStream API'S to serve m3u8 streams on Android & iOS. This certainly is a wonderful feature for broadcasting live video events with hundreds of thousands of simultaneous viewers via iOS and Android apps.
The App Builder is known for making beautiful and interactive apps for all major platforms like android, iOS, BlackBerry and Windows 8 and already over 100,000 apps have passed through their doors, Appy Pie's live streaming API integration will help users Live Stream their next event and exponentially grow audience globally.
"We're always keen to help broadcasters grow their viewership, with millions of people turning to Mobile phones for their regular dose of entertainment, adding this API seemed like a logical thing to do," said Abhinav Girdhar, Founder of Appy Pie.
About The Company:
Appy Pie is Trademark of Appy Pie Inc, Appy Pie is the world's #1 Cloud based Mobile Apps Builder Software that allows everyone to create free Mobile Apps. Appy Pie is a Mobile Application Development Software that allows anyone with no technical knowledge to create advanced applications for mobiles and smartphones. Nothing to Download or Install, No Programming Required, Just Drag & Drop.
To learn more about the services offered by the company just log on http://www.appypie.com/