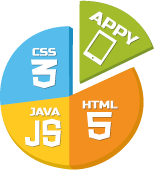 New York (PRWEB) September 24, 2014
With an aim to promote their cloud based mobile app builder, Appy Pie introduces a new jingle to represent their App Builder & Brand. It is an instrumental song that includes the word "Appy Pie" and is very catchy, with two verses and one chorus.
Appy Pie is trademark of Appy Pie Inc. Appy Pie is the world's #1 cloud based Mobile App maker Software that allows everyone to create free mobile apps. Appy Pie is Custom Mobile Application Development software that allows anyone with no technical knowledge to create advanced applications for mobiles and smart phones. Nothing to download or install, no programming required, just drag & drop.
"Many companies use music as part of their branding however this has been the first time for us, it was just like opening a brand-new door full of possibilities," said Abhinav Girdhar Founder Appy Pie.
Previously Appy Pie was listed as one of the Top 10 App Generators & Top 8 Powerful Tools for the Aspiring App Developer by Yahoo.