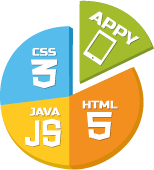 New York (PRWEB) September 09, 2014
Appy Pie's App Builder hard work in offering the best and easiest method of app development is paying off well to them as recently they were rated as one of the ' Top 8 Powerful Tools for the Aspiring App Developer' by Yahoo. The recognition that Appy Pie has received in less than a year since its inception is remarkable as it was previously listed as one of the Top 10 App Building Software by Mashable.
Appy Pie is the world's fastest cloud based DIY app builder software which allows people to develop beautiful applications within minutes and it requires no coding knowledge or previous experience of app development, but just a computer and an internet connection. With advanced features and support for latest mobile operating systems, the apps created using their platform are not only user friendly but also economical.
Users can create their app in few minutes and they will receive a HTML5 based hybrid app that works with Android, iPhone, iPad, Windows Phone and Blackberry and there is no need of installing or downloading any additional package. Everything required to create an app is available within Appy Pie's app development tool-kit and users can make their app using drag and drop facility.
"These ratings recognizes a link between innovation and long term commercial success. Yahoo is a pioneer in technological world, more so than any other publication has studied how well executed innovation leads to sustained and profitable growth among small companies." said Abhinav Girdhar, CEO at Appy Pie Inc.
"We are absolutely delighted to be rated as one of the Top 8 Powerful Tools for the Aspiring App Developer and be internationally recognized by Yahoo. For us this confirms that our Appy Pie's app maker Services are the right one for small and medium businesses." he further added.
About Appy Pie:
Appy Pie is Trademark of Appy Pie Inc, Appy Pie is the world's #1 Cloud based mobile apps builder software that allows everyone to create free mobile apps. Appy Pie is a mobile application development software that allows anyone with no technical knowledge to create advanced applications for mobiles and smartphones. Nothing to download or install, no programming required, just drag & drop.
To learn more about the services offered by the company just log on http://www.appypie.com/