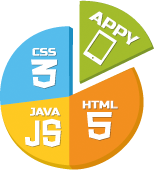 With Appy Pie's Restaurant App Builder API, Owners of Restaurants, Cafes, Bars, Clubs can attract more customers to the restaurant and increase table reservation.
New York, NY (PRWEB) July 24, 2014
Cloud-based mobile app builder, Appy Pie, launches API to empower restaurants to create the next generation of food ordering apps. With Appy Pie's Restaurant App Builder API, owners of restaurants, cafes, bars, and clubs can attract more customers to the restaurant and increase table reservations. Appy Pie's restaurant app maker allows developers to create beautiful mobile apps with following features:
1. Menu creation with food ordering page
2. In-app ordering with Paypal payment gateway
3. Loyalty card feature to incentivize repeat customers
4. Coupon feature to offer discounts during Happy Hours
5. Reservation using the appointment feature
6. Add-ons like Opentable & GrubHub
7. Turn-by-turn GPS directions leading directly to your restaurant
8. Event calendar showcasing special evenings with Google Calendar
9. Exclusive offers and events sent to app users via push notifications
10. Restaurant showcase using photo gallery integration with Picasa, Flickr, Instagram
11. Patron's dining behavior studied with Google Analytics
"Over the past 18 months Appy Pie's technology team has worked really hard to deliver this API, which will empower developers to create innovative mobile apps for restaurants that will help them attract more customers and increase table reservation," said Abhinav Girdhar Founder, Appy Pie.
About Appy Pie:
Appy Pie is Trademark of Appy Pie Inc, Appy Pie is the world's #1 Cloud-based mobile apps builder software that allows everyone to create free mobile apps. Appy Pie is a mobile application development software that allows anyone with no technical knowledge to create advanced applications for mobiles and smartphones. There is nothing to download or install, no programming required – just drag and drop.
To learn more about the services offered by the company, just log on to http://www.appypie.com/.