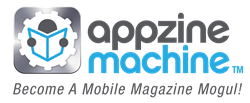 'Appzine Machine is pretty much a turn-key system, it just requires the vision from the user.' -Ron Heisy, Publisher of 'Christian Man Magazine'
Anaheim, CA (PRWEB) December 19, 2013
Appzine Machine is proud to announce the launch of their innovative application. Appzine Machine is the easiest way to create a mobile magazine application without the need of a graphic designer or programmer. Appzine Machine has been helping business owners and entrepreneurs deliver their individual message to their markets at an affordable price. "We have created an entire turn-key system for people to publish their own magazine, it's easier than you think," says Matt Lutz, Co-Founder of Appzine Machine. Appzine Machine is a digital publishing platform. There is no coding required, just drag and drop. It is an easy design tool with customizable templates. The finished product can be easily published to iPad through the Apple Newsstand.
"Having a platform like Appzine Machine makes the process simple, quick and easy. Not being 'tech savvy' this platform makes it easy…it does the techy bits for you," says Colin Piper, Publisher of 'My Health My Wealth Magazine'.
Another happy client, Ron Heisy, Publisher of 'Christian Man Magazine' says, "Appzine Machine is pretty much a turn-key system, it just requires the vision from the user."
After investing 18 months and six-figures to develop this cutting edge platform and training center, Co-founders Matt Lutz and Len Wright are excited to help clients take their business to the next level with Appzine Machine, a valuable tool for every entrepreneur to have.
What sets Appzine Machine apart from other similar platforms are the following points:
-Built-in professionally designed, fully customizable page templates (i.e. no need for graphic designers)
-WYSIWYG simple to use, drag & drop user interface (i.e. no need for programmers)
-World-class training center that teaches every component of content creation/acquisition, marketing & monetization (currently no other platform offers this kind of training)
-Publisher interview series (they pull back the curtain of what other successful publishers are doing so the 'newbies' can learn from them and short-cut their own success)
-2 tickets to a live digital publishing event & tradeshow
-Ability to publish 2 magazines (for the price of 1) and unlimited issues
-Exclusive online publisher's community
-Top-notch customer service
"The strategic perspective the team at AZM has approached digital publishing with is the best I've seen, allowing everyone that uses their platform to benefit from their vision. Being able to publish is just a piece of the puzzle, so having the business model insights and strategies they provide makes the whole solution a major win for anyone wanting to build an audience in this mobile space," says Joshua Long, Publisher of 'Road + Trail Magazine'.
For those interested in learning more about publishing their own digital magazine, visit http://www.appzinemachine.com or follow them at:
Facebook: https://www.facebook.com/AppzineMachine
Twitter: https://twitter.com/appzinemachine
Blog: http://appzinemachine.com/blog/
Matthew Lutz
714-927-3032