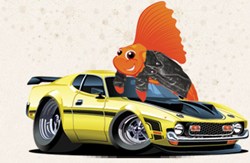 Austin, TX (PRWEB) October 23, 2013
Road Fish, an online men's magazine, announced the three most effective ways to use Aprendelo.com, a Spanish-education website. This announcement came on the heels of Kera News' October 18th news article entitled "More Texas Latinos Are Seeking Hunter Education—In Spanish", an article detailing the increasing need for Spanish-speaking workers in Texas. Like Texas, a vast portion of the southern-most United States is seeing an increasing need for Spanish-speaking workers. Aprendelo.com is designed to fill this need.
Veronica Zaragovia's Kera News' article discussed the need for Spanish-speaking educators and workers in Texas, as evidenced by requests for hunting education courses taught in Spanish rather than English. As the population of Texas experiences significant growth in Hispanic population, Texas is seeing a need for more of the Spanish language in every day operations and educational pursuits.
Road Fish announced three ways to use Aprendelo.com, to effectively bridge the gap between Spanish-speaking needs and what is actually available:
1. Search for online courses. Aprendelo offers a compendium, of sorts, of available online courses and programs, ranging from Marketing and Business taught in Spanish, to education programs designed to assist in teaching the language.
2. Explore education opportunities. Aprendelo allows users to explore different Spanish-language courses, offering a resource for individuals seeking degrees or courses in Spanish, seeking an avenue in which to learn the Spanish language, or a combination of the two.
3. Finally, Aprendelo offers lists of schools and programs, categorized by methods of teaching, programs provided, and locations. Users are able to identify schools and programs based on a series of their needs.
Veronica Zaragovia is a staff writer for KUT News. Her work focuses on state government, reporting on governmental goings-on, as well as state-wide news and needs. She has also worked as a writer for PBS and the Associated Press.
RoadFish.com announced the three most effective ways to use Aprendelo.com, an online resource for Spanish-language programs and classes. This announcement strives to help bridge the gap between the United States' increasing need for Spanish-speakers in the workplace through improving Spanish literacy among working Americans. Using the webpages provided by Aprendelo.com, Spanish-speaking people can find education programs to fit a myriad of needs.
About RoadFish.com:
RoadFish.com is an online gentleman's magazine dedicated to providing news and articles regarding education and all things lifestyle.