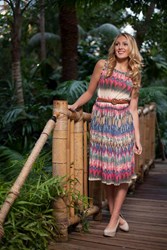 It's the end of summer and we'd like to offer our customers the opportunity to enjoy our unique pieces at great prices before they're gone.
Toronto, Ontario (PRWEB) September 03, 2013
Online women's clothing, jewelry & accessories retailer Apricot Collection is hosting a huge end-of-summer-sale marking all the items at 70% off before the new fall's arrivals. Sale ends September 28th.
Apricot Collection, based in Ontario, Canada, was founded in 2012 by Michelle Herscu, a mother of two, after realizing she won't be able to get her "pre-kids" body back. Her biggest problem in the apparel department was – finding styles that actually looked good on her (and not just on the model from the ad), complimented, and were stylish and fashionable.
She then decided to create an online women's clothing store with one main target – help busy moms find fashionable unique pieces that would fit, accentuate their better features and make them look and feel fabulous. All while taking care of the kids. By having an online presence, Herscu is able to reach out to as many busy moms as possible worldwide (worldwide shipping is coming soon).
Apricot Collection is focusing on unique styles that have a bit of a twist. They can be defined as casual-chic, some with vintage elements and some more classic, but each has a special edge to it.
If you'd like to take advantage of this great sale while quantities last, please use coupon code sale70 at checkout. Please note that the 70% off also applies on already reduced items under the sale category.
About Apricot Collection:
Apricot Collection is a Canadian based online company which came to life after Michelle Herscu, founder & owner, decided to combine her love to fashion with her love to business. She always felt like the market wasn't offering enough, especially for busy mommies, and online stores usually target one audience, whether it's young girls or just a specific style.
That's why today she's always looking for new brands to add to the collection and each piece represents a different style for various occasions. Another element that's important to her is to ensure quality is never compromised. Whether it's classic-chic, feminine, bohemian or vintage. Apricot Collection offers them all, and as time progresses, the company adds more brands and new styles.